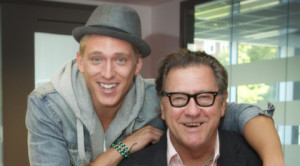 News of an exciting recording collaboration in Sweden comes as an early Christmas present for fans of both Melodifestivalen and the Eurovision Song Contest, as the duet is made up of none other than contest veteran Tommy Körberg and hot property Danny Saucedo.
Whilst Tommy Körberg can be considered something of a veteran of the Swedish music scene, having a career that began in the mid 60's, Danny Saucedo only broke through upon his participation in Idol in 2006, and his career seriously began to gather momentum when he participated in Melodifestivalen for the first time in 2009 as part of boyband E.M.D. Young Saucedo has yet to represent Sweden at Eurovision, however he did come close last year, coming second with In The Club behind the juggernaut that is Eric Saade. Körberg on the other hand has had the privilege of representing his native Sweden twice at the contest, both in 1969 with Judy Min Vän and in 1988 with Stad i Ljus, landing in 9th and 12th place respectively.
Both young and old have cobined their creating forces to creat a magical duet, prefectly timed for the Christmas rush, although it is not yet confirmed exactly when the single is to be released. The song is said to be a beautiful ballad is entitled I Can See Myself In You and this is where Eurovision fans can look forward to yet another Eurovision connection, because the song is namely written by none other than one of the founding members of ABBA, Björn Ulvaeus. Music for the ballad has been composed by Tobias Gustavsson, who Saucedo is no stranger to, as he has previously worked with Danny's former boyband, E.M.D.
The somewhat unusual cooperation between the two apparently came about when both stars featured as coaches on the television programme True Talent – the series may have proved a giant flop, but the combination of these two seems very much like a winning idea.