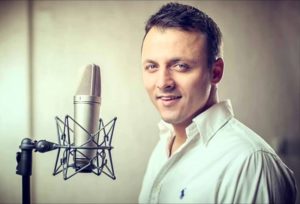 Last evening the national final season for 2015 officially kicked off and the Former Yugoslav Republic of Macedonia hosted Skopje Fest 2014 to decide who would be their entrant for the upcoming Eurovision Song Contest. Daniel Kajmakoski was selected to fly the Macedonian flag in Vienna next May.
The broadcast started at 20:15 CET from the Metropolis Arena in Skopje with some guests being interviewed on the red carpet. Among them were some former Eurovision representatives such as Tijana Dapčević (2014) or Vlatko Lozanoski (2013).
The show opened with the performance of the host, famous Macedonian actor Vasil Zafircev, singing a version of the 1958 Eurovision Italian entry Nel Blu Dipinto Di Blu (Volare).
Twenty artists had been chosen to take part in the final and only one of them would win the ticket from the Balkan nation to Vienna. All of them were singing in their native language and backed by a full concert orchestra which was conducted by Ljupco Mirkovski. The twenty competing acts, in running order, were as follow:
1. Lena Zatkoska – Alo
2. Tanja Carovska – Ako Mi Se Vratis
3. Daniel Kajmakoski – Esenski Lisja
4. Vera Jankovik – Se Plasham
5. Risto Samardziev & Vlatko Ilievski – Sever-Jug
6. Evgenija Cancalova (Egi) – Da Ne Te Sakam
7. Aleksandra Mihova – Srce Cuva Spomeni
8. Lidija Kocovska & Marjan Stojanovski – Sonce Niz Oblaci
9. Joce Panov – Ni Lj Od Ljubovta
10. Goran Naumovski & Sanja Kerkez – Mig Bez Tebe
11. Aleksandar Tarabunov & Toni Mihajlovski – Marija
12. Aleksandra Janeva – Vo Tvojot Svet
13. Miyatta – Zaljuben
14. Tamara Todevska – Brod Sto Tone
15. Sanja Gjosevska – Sakam Da Letam
16. Nade Talevska – Znam
17. Viktorija Loba – Edna Edinstvena
18. Verica Pandilovska – Samo Za Tebe
19. Nina Janeva – Bluz Za…
20. Dimitar Andonovski – Se Shto Ti Vetiv
The interval act featured some guest performances from former Macedonian Eurovision representatives such as Karolina Goceva (2002 and 2007) or Kaliopi (2012). Both of them performed their Eurovision entries and some other songs from their own repertoire.
We got the results at the end of the show. The voting was a 50/50 combination of televoting and international juries from Austria, Azerbaijan, Bulgaria, Croatia, Romania, The Netherlands and Turkey.
Tamara Todevska (2008 Eurovision participant) was the jury's favourite but Daniel Kajmakoski was first on the televoting results. When combined the votes the third place was for Evgenija Čančalova with 18 points, the second place was for Tamara Todevska with 20 points and Daniel Kajmakoski was victorious with 22 points thus he will represent F.Y.R. Macedonia in Vienna.
Daniel shot to fame last year when he won the talent show X Factor Adria where he was mentored by former Eurovision entrant Željko Joksimović. His entry, Lisja Esenski, is composed by Joacim Persson with lyrics from Aleksandar Mitevski and Daniel himself. You can watch his performance in the video below.
You might also like to read: