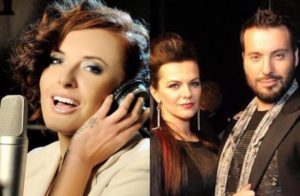 Neighbours the Czech Republic and Poland have revealed their songs heading to the Semi Finals in Vienna. The Czech duo Marta Jandová and Václav Noid Bárta will perform Hope Never Dies while Poland's Monika Kuszyñska will sing In the Name Of Love.
The Czech Republic returns to the Eurovision in 2015 for the first time since 2009 and they have opted for an internal selection in the form of a rock ballad. The track Hope Never Dies was composed by the male half of the duo Václav Noid Bárta. The lyrics have been written by Tereza Šoralová. After their previous attempts this could be the track that the country needs to advance to the final. 
Poland returned to the contest last year for the first time since 2011 and finished 14th in the Copenhagen Final having qualified with the unique My Słowianie – We Are Slavic by Cleo and Donatan. 
This year, another internal selection has taken place and songstress Monika Kuszyñska shall take to the stage on Semi Final 2 with the ballad In the Name of Love. It's a family affair with this track as the lyrics have been written by Monika and the music has been composed by her husband Kuba Raczyński. 
Both the Czech Republic and Poland are competing in the Semi Final 2 on Thursday 21st May 

You might also like to read:

To listen to Hope Never Dies or In the Name of Love – Click on the links below