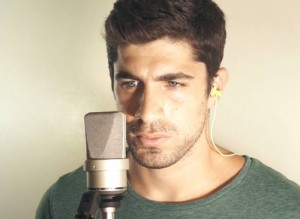 The 6th episode of auditions of the Eurovision Song Project was held last evening. The two remaining tickets for the top20 were given to the last lucky candidates that went through to the next phase, Eurochallenge 1. There are only three weeks left to know who will fly the Cypriot flag in Vienna.
Last evening it was the last time we saw the jury consisted of four members, as in the next two episodes (Eurochallenge 1 and 2), Dimitris Kontopoulos, composer of many Eurovision entries (Greece 2009, Azerbaijan 2013, Belarus 2007) and Christer Björkman, Swedish head of delegation, will join the four judges.
In this sixth quallification round, Alex Panayis (Cyprus 1995,2000), Despina Olimpiou (Cyprus 2013), Helena Patroklou (Cyprus 1991) and radio-producer Tasos Tryfonos had the chance to hear the last eight competing artists performing a cover version of a former Eurovision entry and of course their candidate song.
Three "yesses" were needed for qualifying to the next round of the competition and Andri Karandoni, host of the show, reminded us that only two places were left for next phase Eurochallenge 1, so all the judges were extremely careful in their opinions.
The results were as follows: 
Maria Pavlou with Tha Sou Tragoudiso (Music/Lyrics: Evdokia Xatzicharou, Eleni Gavriilidou)
Maria gave a rendition of Dima Bilan's Believe (Russia 2009, 1st place). Maria's entry is a Greek folk from the 50s. The judges said great comments about her voice and her distinct style but they all had a dilemma about her song and if it could do well in the Eurovision Song Contest. Finally, only two judges gave a "yes" reply, Despina and Helena, so she didn't qualify.
Olivia Sofokli with Miracle (Music/Lyrics:Steven Hosszu, Olivia Sofokli)
Olivia comes from London and she decided to give a rendition of Loreen's Euphoria (Sweden 2012, 1st place) before singing her potential entry. Her song is a classical europop song, a cliche song as the judges said. They all liked her performance but they found her song bad. They did not give any "yes" here.
Gore Melian with Your Love (Music/Lyrics:Samuel Bugia-Garrido, Athanasios Nakos)
Gore sang Without Your Love (Armenia 2006, 8th place) as his Eurovision cover. He tried again in the Cypriot national final after he reached the top10 in 2009. This time he sang a sweet ballad. The judges were very sad because they had to eliminate him although they said his voice was great but his song was an average one. However, Gore got one "yes" from Alex Panayi.
Panagiotis Koufogiannis with Without Your Love (Music/Lyrics: Nassos Lamprianidis, Nikoleta Filipou, Mariefi Orfanidou)
Panagiotis is a singer/songwriter that tries to promote his songs on the Internet. He chose Alexander Rybak's Fairytale as his Eurovision cover. He showed something different. Expression and emotion combined with very good singing skills. The judges were mesmerized and the comments were maybe the best of the whole first phase. He easily got four "yes", swiftly making it to the next round. QUALLIFIED
Adrenaline by Kristi Koupatos with Live Your Myth (Music/Lyrics: Mark Angelo, Kristi Koupatos)
Kristi Koupatos was one of Helena Paparizou's dancers in My Number One (Greece 2005, 1st place). They gave a really interesting rendition of Satellite (Germany 2010,1st place). The singer of the group comes from London. Their song was maybe the most different song of the whole procedure but the judges said that it wasn't a song that can bring Cyprus to the final. So, no "yes" here.
Myria Pampori with Find Me (Music/Lyrics: Minas Pamporis)
Myria was 4th in the Cypriot national final back in 2008. She chose as her cover the Swiss entry of 2005 Cool Vibes (Switzerland 2005, 8th place). Her song, as the judges said, was a dark rock ballad and brought mixed emotions to them. Tasos Trifonos and Despina Olimpiou said that it was boring and voted "no", while Alex Panayis and Helena Patroklou voted "yes", meaning that, with only two "yes", she did not qualify.
Stella Stilianou with Thelo Na Xatho (Music/Lyrics: Christos Giotis, Lazaros Getsios, Stella Stilianou)
Stella's appearance today was the second one in the show as she failed to qualify in a previous audition heat. Stella's Eurovision cover was Olou tou kosmou i elpida (Greece 1992, 5th place). Her song was again a Greek ethnic song, with a riverdance tempo. The judges said that this was worse than her previous entry and she should come back next year with a strongest song as she has a very melodic voice. Stella got only two "yes" from Helena Patroklou and Alex Panayis.
Kiriakos Georgiou with Shake Dat (Music/Lyrics: Mathias Kallenberger, Andreas Berlin, Andreas Anastasiou)
Kiriakos has a successful singing career in Greece as he has already released his first album there. He sang Volare (Italy 1958, 3rd place) as his cover. Kiriakos' entry was a modern pop song but his poor vocals were the biggest disappointment of  his performance. Alex Panayis told him that he has a lot of work to do with his voice and gave him a "no". The other three judges however gave him three "yes" so Kiriakos was the last quallified contestant. QUALLIFIED
After the 6 heats of auditions the 20 songs that will compete next week in Eurochallenge 1 for a spot in top10 are:
Panagiotis Koufogiannis– "Without Your Love" 
Kiriakos Georgiou– "Shake Dat" 
Yuri Melikov – "Victorious"
Apollonia – "Don't give up on me – Just yet"
Hovig – "Stone In A River"
Christina Tselepou – "In These Arms"
Valence – "Scared"
Pieros Kezou – "Said It All Before"
Maria Maskofian and Christiana X' Ioardanous – "Sailing Ships Pirates And Dragons"
Ioanna Protopapa – "Beat Of My Heart"
Eva Diva – "Come and Fight for Freedom"
Aimili Charalampous – "Right In"
Charalampos "Luna" Iosif – "I Wanna Dance" (I Say Tempo)
Maria Evangelou – "Still"
Minus One – "Shine"
Giannis Karagiannis – "One thing I Should Have Done"
Eleni Irakleous – "Dawn"
Nearchos Evangelou feat. Charis Savva – "Deila Den Agapo"
Christos Rialas – "Meine"
Doody – "Magic"
You can watch the next episode of Eurovision Song Project, next Friday 16/1/2014 at 21.20 CET on the website of the Cypriot broadcaster.
In the video below you can watch a small part of all the 20 entries that will compete in the next episode of Eurovision Song Project for a place in the top10 of the Cypriot national selection. 
You might also like to read:
In my view
As I wrote last week it seems that CyBC kept the best songs for the last two episodes. As in the previous audition with Hovig, this time we had a song much better than an average song. Nassos Lamprianidis, the man that brought Cyprus to the final in 2010 when no one expected it, composed an even stronger ballad this year. Panagiotis Koufogiannis is a very talented singer and with this song he can not only quallify to the final (as the judges want for Cyprus this year) but he might have a top10 place after a decade for the mediterranean country. We have to wait to listen to the full songs but I think we have a very strong song for Cyprus here.

The opinion expressed in "In my view" are those of the author and are not necessarily the one of EuroVisionary.com.