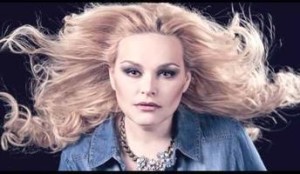 Cristina Scarlat will represent Moldova at the 2014 Eurovision Song Contest with the song, Wild Soul. The final of the 2014 O Melodie Pentru Europa selection was held at Studio 2 at TVM in Chișinău this evening. After two semi-finals it was decided by expert jury and televoting to send Cristina to Copenhagen.
16 songs participated in the grand final. The running order was decided by the participants themselves after drawing their positions after the respective semi-finals.

The Songs –

1. Diana Staver – One And All
An uptempo number to start the show. Diana is joined on stage by a male on stilts wavings sticks and there is also a male dancer. There are also three female backing vocalists. A big opening to the show.
2. Doinița Gherman – Energy
There is indeed a lot of energy here also on stage. There are four male dancers and a female backing vocalist. A touch of 'Wild Dances' influence in this performance. It is an upbeat dance song with lots of movement on stage.
3. Boris Covali – Perfect Day
A piano opens the song. We have some flute and then the song builds in to an anthemic song that is upbeat and melodic. There are three girls on stage dancing and also planning violins and chello and there is male pianist. This song packs a lot in to the three minute performance. 
4. Tatiana Heghea – I'm Yours
Another dramatic and energetic performance by Tatiana and her four male dancers. The song builds from a slow introduction. An uptempo dance beat takes over and another strong contender. 
5. Lucia S – Frozen
There are two male dancers with hoods up to start by Lucia. A slow intro with flute sounds. Then the song turns in to an upbeat dance song with some positive energy. There are three backing vocalists with the hoods up too. A good club sound. 
6. Margarita & Metafora – Vis
A more mellow sound now with an operatic feel for song 6. The song has violins and ethnic vocals in the Romanian language. A gentle performance that could do well after the previous five uptempo songs. 
7. Ana Cernicova – Dragostea
A gentle and charming ballad with a lovely melody. Ana looks elegant in her light blue dress and on the stage she performs very well. She is joined by a male and female dancer. 
8. Edict – Forever 
Back to the upbeat sounds now. Edict play an ubeat and almost rock feel with this song. The female vocals are strong although the accent in English sounds a little strange sometimes. But nonetheless this is a strong song and performance. 
9. Flux Light – Never Stop No
Now we hit the dancefloor again with Flux Light. The female vocalist has deep and strong vocals. She is joined by fur male dancers. Again a lot of energy on stage. This could fill the dancefloors all over Europe. 
10. Aurel Chirtoacă – Urme De Lubiri
A haunting opening for this song performed in Romanian that develops in to a gentle pop song with a nice melody and good production. Aurel delivers a strong performance and this may surprise a few people.
11. Paralela 47 – Fragmente
Now we have some rock on the stage. The four piece band perform this song in Romanian and give a solid performance with bags of energy.
12. Diana Brescan – Hallelujah
Diana takes to the stage looking very elegant in her pink dress. She is joined by a male and a female dancer. The song is a mid tempo pop song with a good production. A solid performance and strong vocals by Diana.
13. Mikaella – Follow Your Dreams
This is a ballad with a strong production. Mikaella gives a strong performance with good vocals and her passion and story can be heard. A strong song that you can imagine on the playlists of many radio stations.
14. Curly – Your Recovery
Curly reminds me of the New Zealand singer, Lorde, with this effective and eery song. Unusual vocals and backing music arrangement.  There is a mini cartoon Curly on the background screen. Mellow and original sound for Eurovision stage.
15. Cristina Scarlat – Wild Soul
Cristina has very deep vocals and she is wearing an unusual dress that is basically in two halves. It is a long and elegant green colour on one side and the other is metallic like robotic style. She has two male dancers. The song has a dramatic opening and builds in to a midtempo pop song. The production is strong and makes a good visual show.
16. Felicia Dunaf – The Way I Do 
A great way to complete the competing songs tonight. Felicia looks and sounds relaxed on stage. This has a lot of energy. It has a retro feel and the background lighting and video screen is very effective. She is joined by two masked male dancers. There are three backing vocalists. The song is catchy and you can feel the fun. 
The Show –
Dancers waving flags opened the show. Aliona Moon, last year's representative for Moldova in Sweden, then performed O mie at the beginning of the show.
The show was presented by Nicu Turcanu and Djulieta Ganu and there were also regular visits to the Green Room to catch up with the artists.
The interval act consisted a mini concert by Ciubul group with a number of songs. We then get to see a travelogue about Denmark with the dance version of the 2013 Eurovision winner, Only Teardrops, playing.
The Voting –
The voting was a combination of expert jury and televoting. Cristina Scarlat was announced as the overall winner with Wild Soul and will go to Copenhagen to fly the Moldovan flag in 2014.
Moldova at the Eurovision Song Contest 
Moldova made their debut at the Eurovision Song Contest in 2005 with Zdob şi Zdub and Bunica Bate Toba and finished in sixth place which is their highest position so far. The same band came back to the Eurovision stage in 2011 with So Lucky but finished in 12th positition that time.
Since competing Moldova have only once failed to reach the final. Geta Burlacu was not able to make it with A Century Of Love. Arsenium featuring Natalia Gordienko performed Loca in 2006 and were 20th. Then in 2007 we had Natalia Barbu with Fight and she made tenth position.
Nelly Ciobanu took the ethnic sounding Hora din Moldova to 14th place in 2009. SunStroke Project and Olia Tira with Run Away finished in 22nd place in 2010 in Oslo.
In 2012 Pasha Parfeny took Lăutar to a respectable 11th position in Baku and he returned in 2013 as a composer for Aliona Moon and O mie. She finished in 11th place also.
You can see Cristina perform Wild Soul below.
You may also like to read –