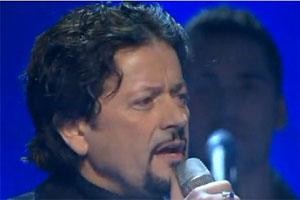 There are only a few days to kick off the first semifinal in Albanian national selection Festival i Këngës. The complete line ups of both semifinals, also jury names and guest acts were revealed by the broadcaster RTSH. For the 50th anniversary edition, there will also be special show dedicated to the history of this contest.
This year, long term music contest in Albania, Festival i Këngës is having its 50th edition. The show will be seperated in two semifinals, a final and a special history night by the national broadcaster RTSH. According to the broadcaster, there were many submissions of song and mostly more than one act from each composers, so it's decided to have two semifinals where each composers can submit only one act. The first semi final of Festival i Këngës will take place on 26th December and Eddy Wata will be the guest act of the night. The line up will be as follows [singer – song title (composer/lyricist)]:
Gerta Mahmutaj – Pyete Zemrën (Flamur Shehu/Rozana Radi)
Entela Zhula – Ndjehem Bosh (Edmond Veizaj/Entela Zhula)
Bashkim Alibali – Këngën Time Merr Vehtë (Bashkim Alibali/Jorgo Papingji)
Samanta Karavello – Zgjomë Një Tjetër Endërr (Genti Myftarja/Pandi Laço)
Endri dhe Stefi Prifti – Iluzion (Voltan Prodani/Timo Flloko)
Rona Nishliu – Suus (Florent Boshnjaku/Rona Nishliu)
Rudina Delia – Më Kërko (Luan Zhegu/Rudina Delia)
Marjeta Billo –Vlen Sa Një Jetë (Klodian Qafoku/Arben Duka)
Claudio La Regina – Kur Të Pasha (F. Scaravaglione/Claudio La Regina)
Hercina Matmuja – Aty Ku Më Le (Shpëtim Kushta/Agron Tufa)
Orinda Huta – Dorëzohem (Alban Kondi/Tyrin Hyska)
Altin Goci – Kthehem Prap (Altin Goci/K. Shehu)
Elton Deda – Kristal (Elton Deda/Sokol Marsi)
Evans Rama – Ti Nuk Mundesh (Fabian Asllani/I. Hoxha)
The day after the first semifinal, the show will continue with its second semifinal on 27th December. Former representative Frederik Ndoçi, who failed to qualify to the Eurovision Song Contest final in, makes a return at this stage. Katherine Ellis will also perform as a guest act and the line up will be as follows [singer – song title (composer/lyricist)]:
Toni Mehmetaj – Ëndrra E Parë (Edomond Zhulali/Agim Doçi)
Dr. Flori – Personale (Dr. Flori)
Kamela Islamaj – Mbi Yje (Alban Male/I. Sojli)
Frederik Ndoçi – Oh, Jeta Ime (Lejla Agolli/Frederik Ndoçi)
Marsida Sarai – Eja Më Merr (Enis Mullaj/Arbër Arapi)
Bojken Lako – Të Zakonshëm (Bojken Lako/Bojken Lako)
Sindi Berisha – Braktisur (Kristi Popa/P. Truja)
Mariza Ikonomi – Më Ler Tëtë Dua (Sokol Marsi/Jorgo Papingji)
Kujtim Prodani – Digjem (Kujtim Prodani/A. Biba)
Iris Hoxha – Pa ty (Edmond Rrapi/L. Shqiponja)
Saimir Braho – Përjetësi (Ilir Dangellia/ I. Kurti & Saimir Braho)
Goldi Halili – Rroj Për Dashurinë (Fatrin Krajka/Agim Doçi)
Xhensila Myrtzaj – Lulet Mbledh për Hënën (Genti Lako/P. Papingji)
Elhaida Dani – Mijra Vjet (Endri Sina/Sokol Marsi)
The shows will be presented by Nik Xhelilaj, Hygerta Sako and Enkeleida Zeko. Conductors of orchestra will be: Gridi Kraja, Oleg Arapi, Alfred Kaçinari, Edomond Zhulali and Jetmir Barbullushi.  An expert jury consisting of Zhani Ciko, Zana Shuteriqi, Robert Rakipllari, Redon Makashi, Edi Xhani, Aldo Shllaku and Ndriçim Xhepa will decide the lucky eight names qualifying from each semifinal to the final. The final show will be held on 29th December and again an expert jury will decide the representative name of Albania at the 2012 Eurovision Song Contest.
Meanwhile in this 50th edition of the show, on 28th December, at the off day between second semifinal and final, there will be a special show related to the show's long history. Winners of the show between 1962 and 2000 will sing once again for the honour of Festival i Këngës. Both of three shows will be broadcasted via RTSH's website and satellite. Last year, Aurela Gaçe represented Albania at the Eurovision Song Contest with her song Feel the Passion, but unfortunately didn't qualify to the final.