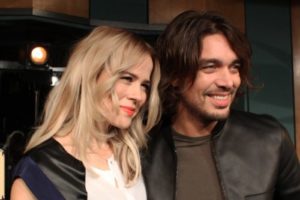 Dutch songbirds The Common Linnets have had a hectic time of things since the announcement by broadcasters AVRO and TROS that they would be flying the flag for the Netherlands in Copenhagen. Tonight, the pair revealed a little more about their entry Calm after the storm.
With the spectacular Dutch return to form in the shape of Anouk and her top ten placing with Birds in Malmö the contest has enjoyed something of a renaissance in the Netherlands since last May, with the contest becoming the most watched television programme of the year. With the Netherlands' Eurovision train back on track, the interest from both fans and public on the subject of just who was to be Anouk's successor was immense, and the announcement of a duo – Waylon and Ilse de Lange – merely fanned the flames. 
Since the confirmation of the two last November, we've been waiting patiently for news of their entry. Tantalizing tidbits of information have been versing in the Dutch media, but we're not the only ones who have been forced to wait. Waylon has had to postpone the launch of his upcoming album until September, due to his commitment to Copenhagen. Heaven After Midnight was originally scheduled for release in March, but has been postponed so that Waylon can focus fully on Eurovision. 
The artist spoke to Dutch media late last month while in Sochi, helping boost the morale of the successful Dutch olympic troupe. He met with press, telling of how both he and Ilse had managed to narrow the choice down to a few songs, a decision they've come to entirely on their own: "We've chosen a couple of songs, so we'll get together at the end of the week to decide. Then we'll consider both, probably over a glass of wine I expect. We'll listen to the songs and try to decide what to go for. We decided that we'd pick the songs ourselves. We may have to involve another person in the process, if we are in doubt, but I think we'll manage."
Both artists were guests on the show De Wereld Draait Door on Dutch TV tonight, where they confirmed that the title of their entry to Copenhagen is to be Calm after the storm and will be performed live by the two for the very first time in next Wednesday's show.
You might also like to read: