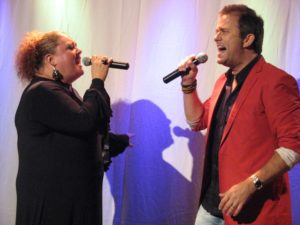 On the 3rd of october, 120 people from all over Sweden gathered in Gothenburg for the annual OGAE Sweden convention. The past conventions has been very appreciated and so the hopes were high for another successfull convention. And people would not to be disappointed this time either.
The place for the convention was Universeum, a science center in the centre of Gotheburg. It started out with a 3 hour meeting where the members of the club selected a new board. After a few hours break, the convention continued with a buffet in a big aquarium-like environment where a lot of different kind of fishes from the Ocean could be seen.
After the dinner, it was time for the performances from the secret artists. First out was two talented sisters, Linda & Ylva Persson, who sang a potpourri of songs from Melodifestivalen & Eurovision.
Next up was Jan Johansen (Sweden 1995) who performed "Ingenmansland" (4th in MF 2001), "Sista andetaget" (7th 2002), "Mitt hjärta i din hand" and "Se på mig" (3rd at ESC 1995).
Chiara came in and performed her 3 ESC-entries: "Angel" (2nd at ESC 2005), "What if we" (22nd at ESC 2009) and "The one that I love" (3rd at ESC 1998). She also performed a new song from her latest album called "Another piece of my heart" and an uptempo-disco version of "What if we". 
The final performance was a duett between Chiara & Jan Johansen. They sang "Let your spirit fly" (2nd in MF 2003). Due to a massive demand from the people gathered in front of the stage they had to perform it twice!
After the performers had left the stage the music continued. MF- and ESC-songs were played and danced to until 3 am. A fanstasic night was about to end but that did not stop some people to continue the party in other places around Gothenburg.