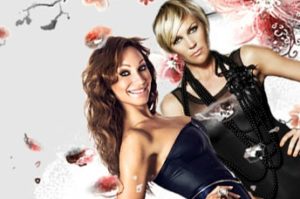 Charlotte Perrelli has recently released her new album titled as her Melodifestivalen entry, The Girl, and one song is particularly striking for Eurovision fans. Its title is Little Braveheart and it is sung in a duet with another Eurovision Song Contest former participant: no less than Belgium Kate Ryan.
This new album of Charlotte Perrelli (1999 Eurovision Song Contest winner and 2008 Swedish representative) contains eight songs including this year's Melodifestivalen entry The Girl and features a duet with Kate Ryan, who represented Belgium at the 2006 Eurovision Song Contest with the song Je T'adore.
Little Braveheart is a very catchy song with a beat, which always makes you want to get up out of your seat and dance. This is an epic duet from two of Europe's dance music divas and it surely will be a number one hit.
This is not the first time that Kate Ryan works together with another former Eurovision Song Contest artist. In 2008 she recorded with Soraya (2009 Spanish representative) the song Caminaré which turned out to be one of the most popular tracks from the Spanish artist on the album called Sin Miedo. And they not only worked together once but twice. They repeated the experience recording another duet which this time was published in Kate's album Free under the title Tonight We Ride.
You can listen to the full version of Charlotte Perrelli and Kate Ryan's song below just as you find a link to purchase the album: