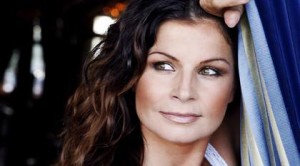 In a candid interview with Swedish tabloid Aftonbladet, 3 times Swedish entrant Carola Häggkvist tells of what she's up to at the moment and what she has planned for the future. 
Swedish superstar Carola Häggkvist is currently on a nationwide promotour of her native Sweden in conjunction with the release of her newest studio album, Elvis, Barbra & Jag. But for the first time, the diva has chosen to hold concerts at much smaller venues, opting to play at restaurants, not your usual concert venue. When asked about this decision, Carola replies: "The choice of venue goes hand in hand with the Elvis numbers, at least. I've tailor made the concerts, so people will hopefully feel relaxed and happy". Carola also goes on to tell a little about her choice of covering songs by both artists: "Barbra shows my softer side, my artistic, spiritual side if you like whereas Elvis represents the more humourous, rebellious side of my nature".
With the choice of Elvis and Barbra covers, things have come full circle for the megastar, as she used to sing their songs as a teenager, heavily influenced by her parents. "I really wanted to show my love for my parents and to thank them for what they gave me by letting me grow up with music from the two artists. The only music ever played in our home was from these two. In some respects, I would love to say thanks for everything, it's been fun. I've made these songs for my parents, the music I grew up with. It feels like I'm tying up a lot of loose ends. I really could think seriously about throwing in the towel…I've got other things happening in my life, such as my charity work in Africa, my life isn't about getting noticed and being on stage".
Carola also talks about her plans for the autumn, and it's certainly shaping up to be a hectic time for her, with appearances in the new TV4 show The Voice as a vocal coach : "I think it's great that the show gives the possibility to reach out to a wider audience through the TV screen, now that the record industry is in such a state of change. What's good about The Voice is that the contestants get to do their own thing. On Idol, you have to cover all genres, being just a karaoke contest. I hope The Voice manages to discover original talent, I'm sure there's a Bob Dylan out there somewhere".
She also tells of plans for a concert musical set in Jerusalem: "I'm in the process of making a musical with Erik Hillestad. We've found a recording venue in Jerusalem. The songs are heavily orchestrated with quite a rocky edge to them, a bit of a Jesus Christ, Superstar vibe if you will. We've already completed eight songs". So far this year, Carola has already turned down a fair number of offers to appear in musicals, quite content to turn her hand to vocal coaching on The Voice instead. She goes into more detail around her decision: "I've had offers to do musicals, I won't go into which ones…If I regret turning down the offers? Well, I may have wanted to get up and do a number or two, but I've never really felt that I've found the musical I want to give my all for. I could definitely consider Jesus Christ, Superstar but with a different ending".
If the artist does decide to bring her singing career to an end, she can look back on a career which no other solo artist in Sweden can even dream of matching: representing Sweden three times at the Eurovision Song Contest, in 1983 with Främling, winning the contest in 1991 with Fångad av en Stormvind and competing yet again in 2006 with Invincible, as well as having countless gold and platinum awards to her name. 
Links