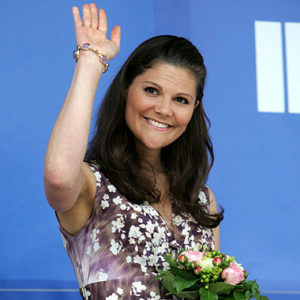 Big names such as Carola, Eric Saade, Andreas Johnson and Jessica Andersson all took part in the televised annual public celebration of the Swedish Crown Princess Victorias birthday.
The celebration of the Swedish Crown Princess took part, as always, in Borgholm on the swedish island of Öland. In a televised program the viewers could follow the people and the Royal family celebrating Victoria. During the program the viewers can donate money to the Crown Princess Fund which supports recreational activites for children and young people with functional disabilities.
The program featured performances from well known acts:
First out was Jessica Andersson, the female singer in the duo Fame who represented Sweden in 2003 and took part in Melodifestivalen several times after that. She performed "I Wanna Dance With Somebody". Later in the show Jessica also performed the song "Precis där du hör hemma".
Next up after Jessica was Andreas Johnson, 4 times partcipant of Melodifestivalen. He performed his song "One Man Army" and later in the show his big hit "Glorious" in which he was joined with by the soprano singer Elin Rombo.
Carola, 3 times participant and winner of the Eurovision Song Contest in 1991, performed the song "Suspicious Minds" and later on she sang "Always On My Mind", that are both part of her touring "Elvis, Barbara & me" show.
Eric Saade, 3rd in the Eurovision Song Contest 2011, performed his song "Hearts In The Air" and later in the show an acoustic version of "Popular".
The performers of the evening joined together in the last number of the show to sing a short celebration song for the Princess on her 34th birthday.