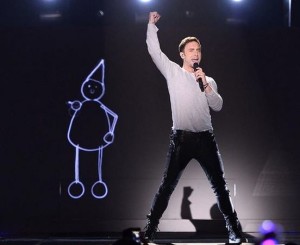 On Satuday Sweden will pick its representative for this year's Eurovision Song Contest. After a total of five rounds so far the songs involved in the national selection, Melodifestivalen are conquering various Swedish charts, but what do the chart placing and poll prediction say about the result?
12 songs have through five selection heats qualified for the national final in Sweden that take place on Saturday. The winner of Melodifestivalen will represent the country at the Eurovision Song Contest.
Single top100: 
The competing acts are well represented on the Swedish charts and several of the songs have already become quite a hit. On the Swedish Single Top60 we find one of the finalists as 4th most sold single; Groupie by Samir & Viktor, which qualified from the second chance heat and they are the only finalists in top10, but more follow down the list:
#16: Måns Zelmerlöw – Heroes
#27: Linus Svenning – Forever Starts Today
#45: Eric Saade – Sting
#53: Jon Henrik Fjällgren – Jag Är Fri (Manne leam frijje)
#55: Hasse Andersson – Guld Och Gröna Skogar
#70: Isa – Don't Stop
#79: Dinah Nah – Make Me (La La La)
#85: JTR – Building It Up
#97: Magnus Carlsson – Möt Mig I Gamle Stan
As the songs for the second chance round were allowed an earlier single release, this naturally gives an advantage to Samir & Viktor, Linus Svenning, Hasse Andersson and Dinah Nah. So it isn't possible based on this to declare Samir & Viktor for big favourites. Two of the finalists however are not to be found in top100, making it less likely that they, Jessica Andersson and Mariette, are going to win.
iTunes top100: 
On the Swedish iTunes top100 things look different. On first position we have Måns Zelmerlöw following by Loreen's interval act from the second chance round, Paper Light. Once again Samir & Viktor's Groupie song is doing well – also here as #4. They are followed by #5 Hasse Andersson, #6 Jon Henrik Fjällgren and #7 Dinah Nah. On a 10th place we find Magnus Carlsson and his entry Möt Mig I Gamle Stan. Outside top10 the list follows:
#12: Eric Saade – Sting
#16: Isa – Don't Stop
#18: Linus Svenning – Forever Starts Today
#20: Marietta – Don't Stop Beliving
#52: Jessica Andersson – Can't Hurt Me Now
#66: JTR – Building It Up
SVT poll: 
Måns Zelmerlöv as the favourite is backed up by a poll on Swedish broadcaster SVT's Melodifestivalen site.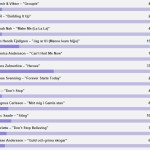 With close to 9000 votes at time of writing Måns is leading with 37% of the votes. Runners up are Jon Henrik Fjällgren at 15% and Eric Saade with 10%.
Last in the poll we find Jessica Andersson who with only 1% appear not to be likely to get a Eurovision comeback this year. With 2% of the votes are JTR and Linus Svenning unlikely to get their Eurovision debut in Vienna. 
The single chart list can not be used to predict the winner simply because everyone haven't had an equal oppertunity there. The Itunes list and the poll are both showing a clear victory to Måns Zelmerlöv who can be considered the one to beat, but we have before seen surprises, also in Sweden. If someone performs outstanding on Saturday, they could very well beat the favourite, but this is more likely to come from the ones with some success already in the lists, like Eric Saade and Jon Henrik Fjällgren.
The contestants way to the final: 
The final of Melodifestivalen kicks off at 20:00 CET Saturday the 14th of March live from Friends Arena, Stockholm. EuroVisionary will be reporting from the rehearsals which starts tomorrow.