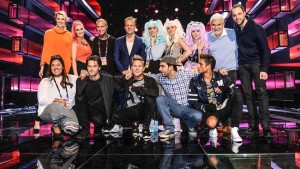 A topless Loreen and a Eurovision medley of eight songs of which three were from Israel. Swedish broadcaster SVT surely delivered enough to talk about in tonights second chance heat where eight acts competed in direct duels for the last four spots in the final.
This year Sweden's broadcaster, SVT, had made some changes to their selection process. Changes made to put more focus on this second chance heat. The songs ending up here could get more airplay and the number of qualfiiers was put up. Instead of just two making it to the final, four of them would now do so.
Already through to the Swedish final:
With 12 spots in this year's final of Melodifestivalen, the winner of each of the four duels tonight would make it straight to the final. The duels had been made so that none of them were matched with one from their own heat.
Duel 1:
01. Andreas Weise – Bring Out the Fire (From heat 3)
versus 
02. Linus Svenning – Forever Starts Today (From heat 2)
The winner is Linus Svenning
Duel 2:
01. Hasse Andersson – Guld Och Gröna Skogar (From heat 4)
versus 
02. Kristin Amparo – I See You (From heat 3)
The winner is Hasse Andersson
Duel 3:
01. Dolly Style – Hello Hi (From heat 1)
versus 
02. Dinah Nah – Make Me (La La La) (From heat 4)
Duel 4:
01. Behrang Miri feat. Victor Crone (and for tonight also) feat. Malena Ernman (Sweden 2009) – Det Rår Vi Inte För (From heat 1)
versus
02. Samir & Viktor – Groupie (From heat 2)
The winner is Samir & Viktor
The show:
Just like the previous four hearts, tonight's second chance round also kicked off at 20:00 CET, and was also hosted by Robin Paulsson and Sanna Nielsen, the latter being the Sanna that represented Sweden at last year's Eurovision Song Contest.
After each of the four duels a little talk with the participants took place, and was followed by an interval act before the next duel took place.
As interval acts we had the hosts performing a Eurovision medley, which included Italy 1958, Israel 1978, United Kingdom 1976, Germany 1979, Israel 1979, Switzerland 1988, Ireland 1987 and Israel 1987. A highly unusual mix of songs for a medley. Later we also had a medley of some of the Swedish entries through the years.
Later the hosts sang Det Tänker De På (That's what they are thinking of). It included guesses of what the participants sitting in greenroom would be thinking about, but also what would be going through the mind of Loreen (Sweden's 2012 Eurovision winner), who was sitting in the audience next to EBU's Executive Supervisor of the Eurovision Song Contest, Jon Ola Sand. A topless Loreen later came on stage featured by KAZAKY to the sing the song sang Paper Light.
The interval act from the previous heat, intern Filippa returned and she got to sing a selfwritten song with what she called a very serious message; that you shouldn't compete on music! During the song she made aware of that peace on earth could be secured if you don't such music competitions and asked Christer Björkman to take notes. She also managed to get him on stage as backing near the end of the song.
Last performance in tonight's round came from Sanna Nielsen in a duet with Monica Zetterlund who represented Sweden at the Eurovision Song Contest in 1963. It was her song from back then which was made up with Sanna from today and Monica from back then. 
Sweden at the Eurovision Song Contest:
With a total of five victories Sweden is one of the most succeful countries at the Eurovision Song Contest. The first one came in 1974 with the ABBA song Waterloo, which later became a classic. Their last victory came in 2012 with Euphoria performed by Loreen.
Sweden made its Eurovision debut in 1958 with Alice Babs, and they have only once failed to qualify for the final. That was in 2010 where Anna Bergendahl's This Is My Life didn't convince the European voters.