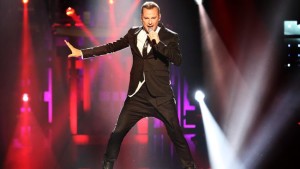 Last Saturday we found the first two finalists in Sweden. Tonight another 7 acts competed in the national selection, Melodifestivalen. Mariette and Magnus Carlsson secured themselves each their spot in the final, while two more acts will get a second chance to make it.
A week ago, the two former Eurovision Song Contest participants, Eric Saade (Sweden 2011) and Jessica Andersson (Sweden 2003) went straight to the Swedish final. The acts finishing third and fourth, Dolly Style and Behrang Miri feat. Victor Crone, got a second chance which they will fight for after the four regular heats.
Tonight 7 more acts competed for two final spots and two second chance spots.
The songs:
1. Forever Starts Today – Linus Svenning
Linus, who made it to the final in last year's edition of Melodifestivalen with the song Bröder is back with a catchy mysterious entry full of oil barrels as drums and plenty of flames. It starts very quiet, but build up nicely. In the last third of the song a nice piano riff is added to the song. Linus has six drummers with him on stage, they move around him and from time to time Linus walks a bit as well. A strong opening and a song to watch out for.
2. Där Och Då Med Dig – Emelie Irewald
We continue with a quiet ballad. The stage is very dark, but lit up with lots of small lights which Emelie is standing in the middle of. Emelie herself is dressed in a long black dress with a deep cleavage. The lights creates a special atmosphere. It is beautiful, no doubt about that, but is this maybe too quiet? The song was extremely well received with the audience in the hall.   
3. Groupie – Samir & Viktor
A real up tempo song which you brings you in a dance mood, that is what we have here. The two young guys Samir & Viktor have five dancers with them, and no one on the stage is able to stand still for more than a second or two in this song where several snapshots are taken during the performance. It is easy to sing a long to and surely the teenage girls will love this and can relate to the theme about taking selfies or groupies as they call it, but is it strong enough to qualify? 
4. If I Was God For One Day – Neverstore
Neverstone is a three piece punk rockband. We have a drummer, a guitar player and a bass player with the two latter also as singers. It starts out more quietly, but then it explodes into a catchy rock chorus and at moments it has a bit of football singing a long to it. It is very simple, yet powerful performed. A very strong contender, which ends with red glitter raining down.
5. Nonetheless – Marie Bergman & Sanne Salomonsen
Marie has an impressive record: Three times taken part in the national selection, won all three times. In 1971, 1972 and 1994. This year she has one of Denmark's best selling artists with her in the shape of Sanne Salomonsen who we also saw in Melodifestivalen in 2005, but so far never in the Danish selection. The song is a quiet country feeling ballad and their voices match each other well. The song starts with them sitting in each their end of a leather sofa, which they don't get up from before near the end. It isn't until this moment where they actually proper look at each other! A strong outsider, but the performance wasn't good.
6. Möt Mig I Gamla Stan – Magnus Carlsson
We continue with yet another MF veteran. Magnus Carlsson takes part in the selection for the 8th time, but has so far never won. With his success in bands like Barbados and Alcazar it is almost impressive to have missed the Eurovision ticket so many times. On this classic Scandinavian pop song he has six dancers with him, who doesn't appear before half way into the song. It is an extremely strong song the fans will love and if this doesn't go straight to the final, it will be the biggest surprise of the night.
7. Don't Stop Believing – Mariette
The last song of tonight gives us a very dark performance. The stage is kept in black and dark blue, a bit of smoke is added – and Mariette as well as her dancers are all dressed in dark almost ghost liked outfits and in the beginning the dancers are presented as ghosts. Can it be more mysterious? Yes, it can. It looks a bit spoky when bright light flashes onto the dark stage from time to time as lightining. It is an interesting and also quite strong song, but many will probably find it a bit too mysterius… at least those that don't like visiting graveyards in the middle of the night. 
The show:
Second heat of Melodifestivalen 2015 was held in Malmö, the city that hosted the Eurovision Song Contest in 2013. Sanne Nielsen (Sweden 2014) and Robin Paulsson hosted the show, which they kicked of with the opening act Vad Kan Gå Fel? (What can go wrong) where of course many things go wrong. This was kick started by Swedish HoD and MF leader, Christer Björkman (Sweden 1992) telling the hosts that he did not want a repeat of the mistakes from last week. During this act the hosts also change clothes and then we were ready for the seven acts.
During the show a sketch takes place where the hosts gets advice from previous Melodifestivalen hosts, we see their work behind the scenes preparing and greenroom host, who is doing this as her internship!, Filippa Bark talks to the artists. She is local and tries to explain them about Malmö and the area around. She also talks about the book and film "60 shades of gray", which she says is about Christer Björkman's haircut. Maybe a referal to that he use to be a hairdresser with own salon.
The result:
Two acts were first totally eliminated. Those were:
In 6th place song nr. 2 by Emelie Irewald
In 7th place song nr. 5 by Marie Bergman & Sanne Solomonsen.
The remaning five acts went through a second round of voting and then we had a result:
– Straight to the final are song nr. 7 by Mariette and song nr 6 by Magnus Carlsson
– Through to the second chance are Linus Svenning and Samir & Victor
Thus in 5th place and also eliminated is Neverstore.