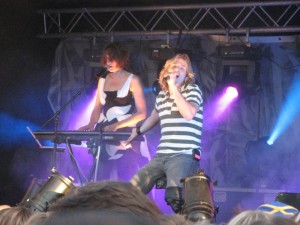 Swedish group BWO have participated in Melodifestivalen three times, in 2005, 2006 and 2008. On Tuesday evening they gave a concert in Umeå, a city in the north of Sweden.
Umeå C is an organisation that among other things arranges concerts. This summer Umeå C are organising three different concert nights to which they have invited 2008 Melodifestivalen artists, BWO and Amy Diamond. Local artists will also be performing.
BWO were the first artists to visit Umeå. They played all their biggest hits, and of course all their Melodifestivalen songs, 'Gone', 'Temple of love' and 'Lay your love on me'. In between their Melodifestivalen songs they played hit songs such as 'Open door', 'Sunshine in the rain' and 'Conquering America'. To end the gig the group played their new song 'Barcelona'.