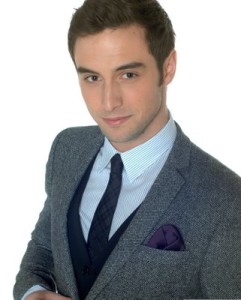 This spring and summer will be very busy for Måns Zelmerlöw since he is touring Sweden and participating in various charity shows and tv shows.He will also be performing together with other well known MF names like Björn Skifs and Loa Falkman.
On the 1st of May Måns will perform his new song "Hold on" at a gala broadcasted on Swedish television called Humorgalan "Gala of Humour". This is the seventh year in a row that this gala is held and the purpose is to collect money to the children of the world. Måns is collaborating with the Swedish radiostation Rixfm and on their website www.rixfm.com you can be part of making his song "Hold on" the worlds longest song.
After that, on the 7th, 8th and 9th of May Måns will perform at Berwaldhallen together with the Swedish stars Björn Skifs and Loa Falkman. Björn Skifs has participated in Melodifestivalen three times, in 1975 with Michelangelo,1978 with Det blir alltid värre framåt natten and 1981 with Fångad i en dröm. Loa Falkman has participated one time in 1990 with the song Symfonin. The show is a collaboration between the three artist and Swedish Radio's symphony orchestra.
Måns is also one of the artists that will perform at Swedish crown princess Victoria'a birthday on the 14th of July. This show will be aired at Swedish television.
In addition to this Måns is on tour signing his new album MZW and later this summer he will be travelling all around Sweden with "The MZW tour". These are the dates to pay attention to:
Signing tour 2009:
1 May- Valbo Köpcentrum, Valbo 12.00
10 May- Draget Hus & Hem, Uppsala, 13.00
15 May Rix FM Stockholm
21 May- Nyköping
22 May- Lidköping kl.11.00 + Hultsfred kl.16.00
23 May- Tomelilla, 15.00
24 May- Gävletravet, Gävle 13.45
26 May- Sundbyholmstravet, Eskilstuna 17.30
28 May- Tyresö, 19.00
30 May- Högdalen, Stockholm 12.00 + Hallonbergen Centrum 15.00
5 June- Mölndal, ca. 19.00
The MZW tour 2009:
26 June – Västerås, Västerås City Fest
27 June – Kiruna, Kirunafestivalen
3 July – Malmö, Malmö Folkets Park 
4 July – Motala, Motala Festivalen
11 July – Skivarp, Möllevallen
19 July – Lidköping, Läckö Slott
22 July – Sunne, Frykdalsdansen
23 July – Piteå, Piteå Dansar och Ler
30 July – Lysekil, Havsbadsparken
31 July – Helsingborg, Sofiero Slott
7 August – Örebro, Stadsparken 
8 August – Sandviken, Högbo Bruk
13 August – Eskilstuna, Strömsholmen
14 August – Stockholm, Gröna Lund
15 August – Linköping, Kungsparken