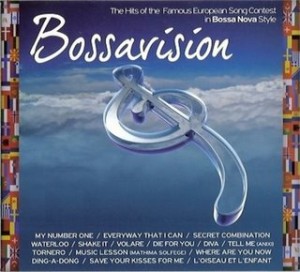 The Greek companies, Eurocovers and Planetworks, have created a project with Eurovision Song Contest hits (mostly Greek songs) and covered the songs in the Bosso Nova style with Brazilian singers and released the album Bossavision.
The project was mainly the work of Eurocovers with the organising coordinators, Easy Coutiel and Nektarios Tyrakis. The songs are covered in the studio by famous singers in Brazil like Barbara Mendes, Danielle Procopio, Zeca Rodrigues and so on.
Although Brazil is a non-European country, it has several albums of covers since the Eurovision Song Contest started in 1956. This album is one of them and is released mainly in Brazil with some of the most famous songs such as Ding-A-Dong, Waterloo, L'oiseau et L'enfant, Diva and so on. You can see the tracks in the album below:
1. Barbara Mendes – My Number One (Greece 2005)
2. Carol (Assad) & Zeca Rodrigues – Every Way That I Can (Turkey 2003)
3. Marcela Mangabeira – Ding A Dong (Netherlands 1975)
4. Saloa Farah – Die For You (Greece 2001)
5. Eliza Lacerda – Waterloo (Sweden 1974)
6. Barbara Mendes – Secret Combination  (Greece 2008)
7. Rachelle Spring – Diva (Israel 1998)
8. Marcela Mangabeira – Shake It (Greece 2004)
9. Flavio Mendes – Save Your Kisses For Me (U.K. 1976)
10. Marion – Tell Me (I Anixi, Greece 1991)
11. Daniela Procopio – Nel Blu Dipinto Di Blu (Volare) (Italy 1958)
12. Rachelle Spring – Solfege Lesson (Mathema Solfege, Greece 1977)
13. Marion – L' Oiseau Et L'Enfant (France 1977)
14. Guilherme Ge – Tornero (Romania 2006)
15. Marion – Apres Toi (Luxembourg 1972)
16. Carol (Assad) & Zeca Rodrigues – Where Are You Now (U.K. 1998)
You can also watch the promo video from the album below.
Links