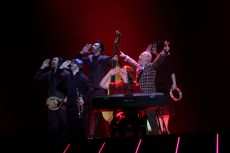 Dino Merlin and his team just finished their second rehearsal. It took some time before they started with their first performance. Between each performance there were some discussions because Dino did not seem to be completely satisfied.
Dino wore again his multicoloured jacket. Will this also be the outfit for the semi-final? He starts the song screaming out for his love. The female backing singer is calling back which sounds like an echo. The backdrop is very original. It is mostly coloured in red showing a fairground and later on some hearts. With the first chorus they start with their simple dance choreography. Additionally a single dancer is dancing around the stage. At the end of the song Dino moves to his backing singers and they are all waving to the audience accompanied by pyrotechnics around them.
The overall performance is very professional and Dino gives an outstanding vocal performance. The song is catchy and touching as well. Everything but a qualification to the final would be a huge surprise.