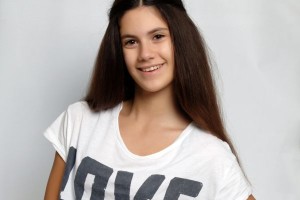 Barbara Popovic has been internally selected to represent FYR Macedonia at the 2013 Junior Eurovision Song Contest to be held later this month in Kyiv. She is the last participant to present her song for the upcoming edition of the contest and her entry is titled Ohrid I Muzika.
Barbara Popovic is thirteen years old and she has been taking piano lessons since she was six. She is already quite popular in FYR Macedonia having succeeded at several children's song festivals. She is a member of the children's choir from her music school called Piccolo and she has also worked with well-known musicians and singers such as Kaliopi (who represented FYR Macedonia at the 2012 Eurovision Song Contest with Crno I Belo), Elena Risteska (2006 Macedonian Eurovision representative), Jovan Jovanov (who composed the Macedonian Eurovision entry in 2004 Life by Tose Proeski) or Darko Dimitrov (known as one of the producers of Molitva).
The song has been penned by Barbara herself with the help of arranger Kire Kostov and its lyrics talk about a summer trip to the Lake Ohrid, in a beautiful town in the southwest of the FYR Macedonia, where she falls in love with a guy from the Netherlands. They live a summer romance and, although she can not say a single word in Dutch, they understand each other perfectly by the language of music.
With FYR Macedonia revealing their entry for the 2013 Junior Eurovision Song Contest we already know all the participants of this edition and their respective songs. Thus, the list of participants rises to twelve countries among which are: Armenia, Azerbaijan, Belarus, Georgia, FYR Macedonia, Malta, Moldova, the Netherlands, Russia, San Marino, Sweden and the host country Ukraine. The show will be broadcast on the 30th of November.
Below you can watch the preview video for Barbara Popovic's Junior Eurovision entry Ohrid I Muzika which means Ohrid and music.
You might also like to read: