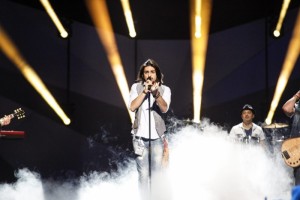 Armenian broadcaster AMPTV has opted for an internal selection in choosing its representative for the forthcoming Eurovision Song Contest. The public and TV audience will be given the opportunity to get to know the act in question a little better with a presentation of the act will being made during a special show at the end of this year.
For the second consecutive year, Armenian broadcaster AMPTV has chosen their Eurovision candidate by means of an internal selection. An announcement of their entrant is expected to be made during the Big Night Gala TV Show, which will be broadcast on national television on the 31st of December.
The song itself that will defend Armenian honour on stage in Copenhagen will apparently not be presented just yet; as a song selection is expected to take place later on in the year. The act that has been given the ticket to next year's Eurovision Song Contest will however treat viewers to some of his, her or their repertoire during the presentation.
Last year Armenia was represented by Dorians led by frontman Gor Sujyan; the act was also internally selected to compete in Malmö. Armenia have never won Europe's favourite television show. Their best achievement came in 2008 when Sirusho gave the performance of her life, ranking fourth with her song Qélé, Qélé. Following the failure of Emmy to make it to the final with her punchy Boom Boom back in 2011, the Caucasian nation decided to take a year out in 2012, when the contest came to Baku. 
While waiting for the pending announcement of next year's Armenian entrant to be made, why not check out Dorian's entry below. Lonely Planet was a surprise qualifier, bringing Armenia into the final once more. This performance is taken from the dress rehearsal of the second semi final and is recorded in 3D, which we reommend to enjoy it to its fullest. Should you however not yet have the right equipment for this, the 3D can be turned off in the player for regular 2D viewing. 
You might also like to read: