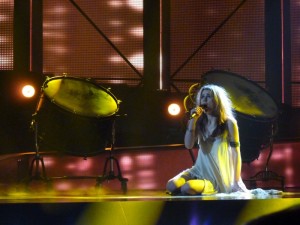 Yesterday the local broadcaster, DR, launched a competition that calls for fans to create their own cover version of Only Teardrops, the Danish entry for this year's Eurovision Song Contest. If you are creative you can win one of the special flutes and Emmelie's debut album.
There is less than a week until Emmelie de Forest will rehearse on the Eurovision stage for the first time. No one can blame her if she is nervous, as the bookmakers have her as a clear favourite and she is currently leading in the OGAE poll as well. Being nervous or not she should be able to make it to the contest that takes place in Malmö, so it is not to find a replacement singer fans are now being asked to record a video of themselves singing Only Teardrops. 
But if you are a bit creative and don't mind showing off your singing skills in front of a camera now is the time to learn the lyrics to Only Teardrops. A new competition challenge everyone to upload their cover version of the Danish entry to Youtube and notify DR about you wanting to take part. You will be able to win a special "Only Teardrops flute" and Emmelie de Forest's debut album.
To take part upload your cover version to youtube. Send an email to [email protected] where you mention the link to your video plus your name and address. If you are on Twitter please also put your video there adding #OnlyTeardropsCover to your post.
Below you can watch a video with some examples of fans who already delivered their cover version of Only Teardrops. You can also see our interview with Emmelie from the opening of this year's Danish final. It is recorded in 3D which we recommend to enjoy it to its fullest, but should you wish to it can be turned off in the player for regular 2D.
You might also want to read: