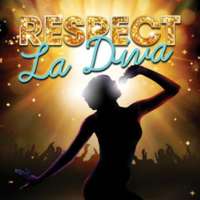 Former UK Eurovision entrant from 2008 Andy Abraham is starring in London's West End, in a new show celebrating some of the biggest divas in music history.
Respect La Diva is a new show celebrating five decades of hits from female music legends including Shirley Bassey, Dusty Springfield, Mariah Carey and Beyoncé.
Created by the man behind hit show Thriller – Live, Respect La Diva is hosted by former Eurovision Song Contest participant Andy Abraham and features a cast that includes two music hitmakers in their own right, Sheila Ferguson of American 60s trio The Three Degree,s and Denise Pearson of British 80s pop band Five Star.
They are joined by young talents Katy Setterfield (known for playing Dusty Springfield on The One And Only) and Zoë Birkett (who played one of the 'divas' in Priscilla Queen Of The Desert The Musical in the West End), along with a cast of West End singers and dancers, plus a live band.
Andy came third to last in the 2008 Eurovision Song Contest with the song Even If with only 14 points.