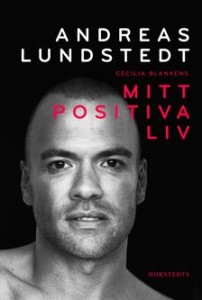 Heart throb Andreas Lundstedt could do no wrong. He seemed to have it all – a successful solo career, followed by even greater popularity with the supergroup Alcazar. Things soon turned sour however, with his life hit by a series of personal tragedies. Lundstedt lifts the lid on his life, warts and all, in his autobiography released last week.
The autobiography of teen heart throb Andreas Lundstedt hit the shops in Sweden last week, with its release by Norstedt Publishers. Right from the start, when he scored his first major hit after appearing in the 1996 Melodifestivalen with Driver Dagg Faller Regn coming second. He quickly had to get accustomed to the spotlight, but just as quickly dissappeared a year later in 1997, following his second attempt at Melodifestivalen with Jag Saknar Dig, Jag Saknar Dig. A number of jigsaw pieces fall suddenly into place surrounding his baffling silence of nearly ten years, with the revelation in his book, Mitt Positiva Liv, that it was in 1997 that he was diagnosed as being HIV positive.

Mitt Positiva Liv deals extremely frankly with both the ups and downs in the life of the singer. From the time when his career seemed to soar as one of the singers in Alcazar, to the relationship with other heart throb and schlager star Magnus Carlsson, Lundstedt featured often in the tabloid press.
There seems to be no holds barred as Lundstedt gets to grips with all of this and more in his new book. But here was a much darker side to his life that very few knew about, that is, up until now. His autobiography deals with his extreme personal agony as a result of being raped. He also tells of his hell as he was thrown out onto the slippery downhill slope that is drug addiction, with his problems peaking when he developed a serious cocaine problem, which for him was a means of escaping the heartache he experienced with his new found status as HIV positive. He also describes in depth the dilemma he faced from the moment he was informed of his HIV status and the ensuing 10 years until he chose to go public with the news in 2007.
But hopefully, Lundstedt's Mitt Positiva Liv won't merely focus on the negative aspects of the artist's past, but also focus on his personal triumphs, such as representing Switzerland at the 2006 Eurovision Song Contest with the Siegel penned If We All Give A Little, as part of Six4One or the fact that he has become something of a role model for those in a similar situation to him, showing that such a diagnosis is not neccessarily tantamount to a death sentence. 
With an entire 261 pages, Cecilia Blankens gives us the opportunity to get up close and personal with the talented and extremely brave Mr Lundstedt.