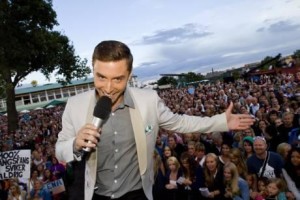 The popular show Allsång på Skansen will be aired on SVT on Tuesdays between 26 June – 14 August. The program will include performances from many Melodifestivalen stars. Here we find the most recent Eurovision winner Loreen, former winners Herreys, Agnes, Molly Sandén, Björn Ranelid, Darin, Sarah Dawn Finer, Thorsten Flinck and Tomas Ledin.
Up to 2 000 000 swedes has been tuning in to watch the popular program Allsång på Skansen on Summer Tuesedays making it the most watched program each summer (major sport events excluded).
Like in so many other years, the former Melodifestivalen participants makes up the core of the show. The 2012 Eurovision winner Loreen will be on the program aired on 10th July. The 1984 winners, Herreys, are making their appearance on 17th July. From this years edition of Melodfestivalen we will see Björn Ranelid & Sara Li, Thorsten Flinck, Molly Sadén and Dead by April. The host of the program is another former MF-participant – Måns Zelmerlöw.
Here is the full program for 2012:
Program 1 – The 26th of June:
Laleh, Agnes, Magnus Uggla, Sean Banan, Adolf Fredriks Flickkör.
Program 2 – The 3rd of July:
Dead by April, Molly Sandén, Erik Hassle, Pros & Cons, Basshunter, Per Andersson.
Program 3 – The 10th of July:
Loreen, Lasse Stefanz, Christina Lindberg, Diggiloo, Norlie & KKV, Monica Nielsen, Bengt Sändh.
Program 4 – The 17th of July:
Miss Li, Björn Ranelid & Sara Li, Markus Krunegård, Andreas Weise, Herreys.
Program 5 – The 24th of July:
Tomas Ledin, Fibes Oh Fibes!, Sten och Stanley, Amanda Fondell, Hagsätra Sport, Christer Björkman. 
Program 6 – The 31st of July:
Darin, Linnea Henriksson.
Program 7 – The 7th of August:
The Soundtrack Of Our Lives, Thorsten Flinck, Panetoz, Cookies N Beans.
Program 8 – The 14th of August:
Jerry Williams, Sarah Dawn Finer, Gina Dirawi, Peter Lundblad, Petra Mede och Anna Granath.
There are still some gaps to be filled at some of the dates, these names will announced at a later stage.