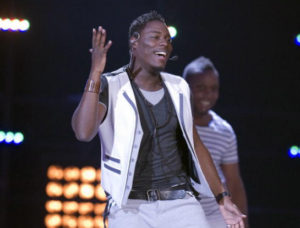 The French singer of Congolese origin Jessy Matador is enjoying a great success in many European countries, where is at the top of the charts in Greece, Germany, Scandinavia and his video clip is one of the most watched on internet this week.
While Jessy Matador did not do the unanimity with the French public (2 millions of viewers less than in 2009), he reached a decent 12th place at the Eurovision Song Contest. French medias are in general satisfy with this result as most of the French people predicted to finish last before the Contest.  Jessy although may have expected better but this is not the most important since the young French singer made a beautiful impression in Oslo and succeeds to sell "Allez, Ola, Olé" everywhere in Europe.
The single places itself after the Contest to the 2nd place on iTunes sales in Greece and Germany, to the 3rd place in Norway, to the 5th place in Belgium and Sweden, to the 6th place in Finland. In France, the digital sales on iTunes placed it at number 63rd but there is still hope it will do much better in the forth coming weeks. Jessy Matador even did a remarkable entry to the Top US in the "dance" category, as his song is placed for the moment at number 88 of the Billboard 100.
This is good new as Jessy's next album called "Electro Soukoss" will be released on 14th June 2010.
Links
In my view
I will have to be honest and tell you that I was not convinced before going to Oslo of this year France 3's choice but the energy given by Jessy during the whole week was amazing! He gave to France its 4th best result since the televoting started in 1998, so well done and good luck to Jessy!

The opinion expressed in "In my view" are those of the author and are not necessarily the one of EuroVisionary.com.