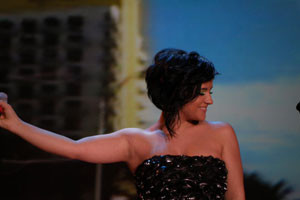 10 more acts qualified for the final of Festivali i Këngës in Albania.  The second semi final took place in Tirana tonight.  Frederik Ndoçi, who represented Albania at the 2007 Eurovision Song Contest, participated this evening along with former national finalists such as Iris Hoxha, Mariza Ikonomi, Kamela Islamaj and Goldi Halili.
The 14 acts and songs competing tonight were –
Toni Mehmetaj – Ëndrra e parë

Dr. Flori – Personale (Dr. Flori)

Kamela Islamaj – Mbi yje

Frederik Ndoçi – Oh… jeta ime

Marsida Saraj – Eja më merr

Bojken Lako – Të zakonshëm

Sindi Berisha – Braktisur

Mariza Ikonomi – Më ler të të dua

Kujtim Prodani – Digjem

Iris Hoxha – Pa ty

Saimir Braho – Përjetësi

Goldi Halili – Rroj për dashurinë

Xhensila Myrtzaj – Lulet mbledh për hënën

Elhaida Dani – Mijra vjet
The interval act tonight was British dance singer, Katherine Ellis.
The 10 acts to qualify for the final on 29 December are –
Toni Mehmetaj, Dr. Flori, Kamela Islamaj, Frederik Ndoçi, Bojken Lako, Mariza Ikonomi, Iris Hoxha, Saimir Braho, Xhensila Myrtzaj and Elhaida Dani.