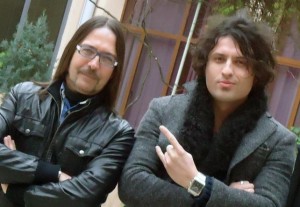 Albania have made their choice for the 2013 Eurovision Song Contest.  They will send Adrian Lulgjuraj & Bledar Sejko with the song Identiet.  The final took place in Tirana at the Palace Of Congresses.
Former participants from Albania, Anjeza Shahini (ESC 2004) and Kejsi Tola (ESC 2009), were amongst the competitors tonight.  The song Më Ler Një Ëndërr by Ani Çuedari was disqualified because of a previous ownership request.
The songs – 
1. Ardian Bujupi – I Çmendur Pas Teje 
2. Valon Shehu – Nuk Do Të Ndal 
3. Merland Kademi – Këtu Fillon Parajsa 
4. Kelly – Ylli Im Polar 
5. Rezarta Smaja – Ti… 
6. Kejsi Tola – S'jemi Më Atje
7. LYNX – Si Ty Askush 
8. Hersi Matmuja – Kush Ta Dha Këtë Emër 
9. Rosela Gjylbegu – Dëshirë
10. Flaka Krelani – Labirint I Zemrës 
11. Vesa Luma – S'jam Perfekt
12. Anjeza Shahini – Love 
13. Adrian Lulgjuraj & Bledar Sejko – Identiet
14. Bojken Lako – Lotë? Jetë? Dashuri? 
15. Selami Kolonja – Ku Je?
16. Dr.Flori & Fabi – Jam Ti! 
17. Xhejn & Enxhi Kumrija – Arti I Një Fundi 
 The Show –
After all of the performances, where each act was accompanied by an orchestra, we had an interval that began with Eldar & Nigar from Azerbaijan (the winning act at the 2011 Eurovision Song Contest).  They performed two songs together, Priceless, and of course, Running Scared.
We were then treated to an English version of Suus by Rona Nishliu (ESC 2012 Albania).  Rona achieved Albania's best position to date (5th place) at Eurovision.
The results were decided by an expert jury. They were not just from Albania but from places such as Malta and Italy too.
Finally it was decided that Adrian Lulgjuraj & Bledar Sejko with the balkan rock style, Identiet, would go to Sweden and represent Albania at the 2013 Eurovision Song Contest.
You can see the performance of Identiet below. 

You may like to read: