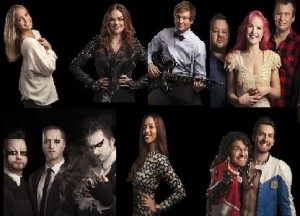 In tonight's third preliminary heat Norway gave us skelletens and gravestones fighting against Duracel rabbits! The show that took place in Larvik had the assignment to pick three more finalists for Oslo next Saturday after six songs already were ready. 
Six finalists had been found via the first two heats. These are:
– From heat 1: Vidar Busk, Datarock and Gromth feat. Emil Solli-Tangen
– From heat 2: Annsofi, Fjellfolk and Margaret Berger
Tonight three more finalists were to be chosen. Later a wildcard will be given to one of the non qualifiers making it a line up of 10 songs for the final Saturday the 9th of February. 
The songs: (You can read more about the participants in our Get To Know article)
1. Gothminister – Utopia (L & M: Bjørn Alexander Brem)
No surprise then we start out with a rock song. Norway must have Eurovision record in including rock songs in its national final. This time it is a heavy goth rock song, which makes one think of Lordi's Hard Rock Hallelujah from 2006. It has an extremely catchy chorus and is well produced. It looks like we start out with a sure finalist.
On stage is a band of four men with an outstanding look; white pale make up in the face, but with strong black make up around the eyes and red blood make up around the mouth and on the throat. Skelletens and gravestones on stage set the atmosphere. Where others have dancers or backing singers joining them here three zoombies instead turns up.    
2. Adelén – Bombo (L & M: Ina Wroldsen / Quiz / Larossi)
Second song is a latin inspired pop song. It strikes you that it is trying too much to go the latin way without quite making it. 
On stage the singer is joined by two female dancers and three male dancers. At the end of the stage we have a DJ. Adelén moves around dancing salsa with fire used around the stage. 
3. Lucky Lips – Sweet & Heavy (L & M: Malin Pettersen)
Next in the line is the accustic band Lucky Lips. They come with a nice quiet country style song inspired by Emmylou Harris. The song is one you sing a long to immidiately, but is that enough to bring this very unusual Melodi Grand Prix song into the final?
On stage we have a band of four male musicians and one female singer. The instruments used are drum, banjo, guitar and floorbas. The female singer follows the trend with performing barefeeted like both Loreen and Emmelie de Forest do. 
4. Gaute Ormåsen – Awake (L : Gaute Ormåsen / Jesper Borgen / M: Fredrik Borgen)
We're half way and go on with a nice and straighforward pop song. The singer has quite a light voice that reminds quite a bit of James Blunt.
On stage Gauta is joined by three female dancers with each their window/ door frames and one guitar player and a mandolin player. A blurry track motion effects makes this song a bit more interesting for the TV viewiers. 
5. Anina – The Young (L & M: Anine Stang / Mattias Frändä / Johan Åsgärde)
We continue with a rock song with quite some young energy. It sounds a bit like a highschool prom band in the sound, but on the other hand then it comes with a lot rock sound and some nice guitar riffs, which for sure stands out.
On stage is female lead singer in a tight black leather suit, which for sure will appeal to a lot of straight males. With her is a keyboard player, two drummers and two guitar players.
6. Winta – Not Afraid (L : Winta / Beyond 51 / M:Beyond 51)
Song nr. 6 is written by the well known Haba Haba songwriters, but this is something completely different. It starts out quiet, but then builds up on to a dance chorus. You find yourself singing a long to Ah-i-ah-i-ah, but quite quickly you unfortunately realise that it begins to annoy you. 
On stage is Winta joined by four male dancers who stands around the podium she is on. Two of them lifts her down as seen before at Eurovision and latest by Kate Hall a week ago in the Danish final. Just to continue the comparison then Winta is wearing a similar outfit as Kate; short red dress with a longer cape at the back. 
7. Sirkus Eliassen – I Love You Te Quiero (L : Magnus Eliassen / Erik Eliassen / M: Magnus Eliassen)
Last competing song of tonight is as the title gives away a bit Spanish inspired, but only a bit as it is actually a rap song – and sung in Norwegian! On the chorus, which is more pop, you can however hear the Spanish inspiration. 
On stage is two singers in colourfull motorcycel jackets that are open. Underneath they are bare! They start out sitting in a sofa with family pictures in the background. On stage is also four rabbits and a guitar player and a drummer. Near the end the rabbits brings in drums, which they play on… Are they on Duracel batteries?  Feathers are thrown around at the end. This is SO unusual and different and silly that it looks like an absolute sure qualifier, but you either love it or hate it?
The show:
This 3rd heat in the Melodi Grand Prix 2013 selection took place in Larvik on the south East coast, out to Skagerrak. We are aproximately 130 km south of the Norwegian capital Oslo. This is just the second time Larvik is hosting a national Melodi Grand Prix show as the city got its debut last year.
The show was hosted by Jenny Skavlan og Erik Solbakken, who also hosted the other shows. Fans might remember Erik as one of the hosts of the 2010 Eurovision Song Contest. Jenny started her career as a model, but is now quite an experienced TV host. In advance the Norwegian broadcaster, NRK, had hired Kåre Magnus Bergh as reserve host in case Erik had to cancel as his wife can give birth anytime soon.
After all seven songs had been performed a re-cap was shown before a clip with the hosts out on the streets talking to the public in Larvik about Melodi Grand Prix. One of the ones they talk to is awarded as Melodi Grand Prix general, that is a middle aged female. That means that she will be the one coming in with the envelopes with the result. That happens on the back of a motorcycel.  
The result:
As in the previous heats only three placements were annunced: Top 3, which then also is equal to being the qualifiers. Compared to other countries then no jury is voting in Norway – the result is 100% televoting. 
In 3rd place comes song nr. 4 Awake by Gaute Ormåsen. 
In 2nd place comes song nr. 7 I Love You Te Quiero by Sirkus Eliassen.
And finally the winner of heat 3 is song nr. 2 Bombo by Adelén. The 16 year singer, who had never before been on a stage larger than the school stage, hardly believed the result when it was announced that she had won tonight's heat.
Norway at the Eurovision Song Contest: 
Compared to its Scandinavian neighbours; Denmark and Sweden, Norway has had quite a mixed and to times problematic relationship to the Eurovision Song Contest. A total of 4 times the country has had to go home with no points at all, but on the other hand then they have also won the contest three times; in 1986 with Bobbysocks and La' Det Swinge, in 1995 with the almost instrumental song Nocturne by Secret Garden and finally in 2009 where Alexander Rybak won quite convinsingly with the song Fairytale.
Last year Tooji managed to qualify to the final on the absolute edge as he finished with equally many points on the 10th position in the semi-final as Bulgaria's Sofi Marinova. A further expection of the points sent Norway though instead of Bulgaria. In the final it didn't go any better though as with only 7 points Norway once again had to accept the last position. 
You might also want to read:
Dansk Melodi Grand Prix overwhelms the chart in Denmark
Amsterdam preparing for 2013 edition of Eurovision In Concert – first 4 artists known