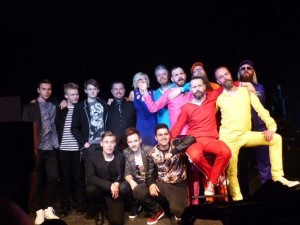 Guests lucky enough to have been invited to the Nordic party made their way to Euroclub tonight. Attendees were served a veritable smörgåsbord of Nordic talent tonight, with all five entrants   performing all of their entries as well as other music. Eurovisionary was there to partake in the typical Nordic hospitality.
Invited press were able to sample the very best of food and drink while mingling with delegation members of all five Nordic nations tonight from 20:00 hrs while waiting for the guest performers to take to the stage and treat expectant guests with five diverse acts. A sumptuous tapas spread and free bar made sure all present were satisfied before the first act of the night, Sanna Nielsen, took to the stage. Other known faces in the audience were Sweden's very own Mr. Eurovision, Christer Björkman as well as the writer of this year's Swedish entry Fredrik Kempe. Before proceedings got underway, all acts minus Basim were gathered on stage for a commemorative photo to mark the occasion.
Sanna Nielsen came on stage wearing a figure hugging purple dress and seemed to be in great spirits, telling of how proud she was to finally be standing on the Eurovision stage representing her native Sweden. With her onstage she was flanked by five female backing singers and together they presented a medley of some of Sanna's hits comprising Vågar du, vågar jag, Du och jag mot världen, Hela världen för mej, I'm in love and Empty Room before finishing off her set with her entry this year Undo. She radiated happiness and it was clear to see that she was overjoyed to be there; the crowd went wild when she finished, so her efforts were greatly appreciated.
How do you follow such a class act such as Sanna? Well, sending the crazy members of Pollapönk on stage to keep the atmosphere going wasn't a bad idea! The members came on stage wearing their trademark vibrant sailor suits, and before they started their set, they made a humourous safety announcement to those present. They kicked off their set by performing No Prejudice to rapturous applause; Mr Red as he is known even treated the crowds to a spot of the worm dance moves on the stage floor before launching into a silly song called something like The Punk Dance where they urged the crowds to join in by waving their arms in the air, shaking their heads and jumping up and down. They then gave an inspired interpretation of the Blur hit Girls and Boys in a turbo version before rounding off their set with a slower acoustic version of their entry this year.
Norwegian entrant Carl Espen was next to take to the stage and he was wearing a black wasitcoat over a black shirt with black trousers. With him on stage was the writer of his entry this year, his cousin Josefin Winther on guitar, a keyboardist and his four violinists wearing sparkly silver dresses. His set was extremely varied, beginning with a cover of the Katy Perry hit Roar which he definitely put his own stamp on. What came next surprised everyone – Carl Espen did a remarkable stripped version of Abba's Waterloo, paying tribute to their win forty years later. His set came to a close with a mesmerising rendition of Silent Storm which received a huge applause.
The penultimate act to take to the stage was Finnish Softengine, five fresh faced young men aged from seventeen to twenty. the compere for the evening, the project manager of Euroclub asked what vocalist Topi would be doing the after the Eurovision weekend, to which he replied: "Going back to school!" Such is the wierd and wonderful world of Eurovision. The stage became electric with a powerful performance of Something Better followed by something of a scoop by performing their next single to be released after Eurovision, Yellow House which went down very well with those present.   
Basim kept crowds waiting, as he was on his way from another gig, but the addage good things come to those who wait turned out to be true. Basim took to the stage wearing a tight black sweater with a picture of a tiger. He had heard that ballads always are a crowd pleaser, so performed his entry Cliché Love Song as a ballad tonight, which had the crowds going wild. This was the only song Basim performed, but it was so worth the wait. 
The whole seance was rounded off by a group photo of all five acts together on stage, giving the press a unique opportunity to capture them all together. Tonight's seance proved that although the Nordic countries may be small, they have a huge amount of talent.