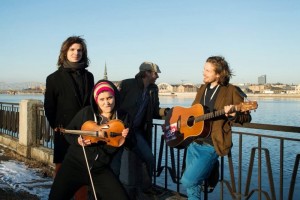 Aarzemnieki got the Latvian Eurovision ticket to Copenhagen after winning tonight's Dziesma 2014. Two semi-finals had found the 12 competing acts and at the end, "Cake To Bake" was the song selected to represent the country in May.
Aarzemnieki will fly the Latvian flag in Denmark after winning with the song Cake To Bake. The national final took place in in Ventspils and twelve acts took part after they qualified from two semi-final held prior to the final.
The songs
1. Ralfs Eilands and Valters Pūce – Revelation (M: Ralfs Eilands / Valters Pūce / Ansis Grūbe /L: Ralfs Eilands)
The performance started with a full close up on Ralfs, who has an Ukranian flag sign painted on his hand. The song had a stronger rock beat with a mixture of rap. Valters played a cello and a drum kit on stage was
played by Nelli Bubujanca. This song had a
repetive choras and "Our Revelation has come" is sung on loop.
2. Markus Riva – Lights On (M: Gaitis Lazdāns /L: Markus Riva)
Markus sang an up tempo disco song. He was accompanied by four female backing vocals who are clad in very dark dresses. They had light up microphones standing in front of them The song was a bit repetitive and his vocals were average. There were some lights on stage, but this was a very predictable performance for Eurovision.
3. Katrīna Bindere – Moment and Tomorrow (M: Edgars Beļickis / Kārlis Auziņš /L: Mikus Frišvelds)
Katrina sang a modern
contempory ballad. She was accompanied by three female
backing vocal team. Katrina wore a modern Vivienne Westwood style gown
to the knee with exposed underskirt at the front. Her vocals were excellent and she connected well with the camera to present a strong yet a simple presentation.
4.  Dons – Pēdējā vēstule (Last Letter) (M: Artūrs Šingirejs / L: Ingus Bērziņš)
Dons was clad in a classic suit and a white shirt with three buttons on the collar. His four female backing singers wore  elegant black long dresses. His voice was very strong which suited him well for this ballad song, but the style of the song was a bit dated and not an obvious choice for Eurovision. 
5. Samanta Tina – Stay (M & L: Ingars Viļums)
Samanta, last year's runner up, was back to Dziesma for the third time in
a row with a dance strong song. She gave an amazing vocal performance that hooked the viewers. The performance was less elaborate, but still a great presentation. She wore a long silk dress. In the back of the stage there were three female backup
singers dressed in black. The stage lighting was dark with several white
flashes and the screens were illuminated in dark blue.
6. Niko – Here I Am Again (M & L: Vladimirs Koževņikovs)
Niko was next on stage clad in a white outfit. He was joined by five dancers dressed in black and wearing white helmets. His dance moves were a wanna be Danny Saucedo yet the vocals were strong. The stage lighting was dark with the screens lit in bright green. 
7. MyRadiantU – Going All the Way (M & L: Janis Driksna)
MyRadiantU sang an indie-rock song with a  blissful tone to it which made it an enjoyable performance. The lead singer wore a black outfit with a white shirt while the
rest of the band were all dressed in dark casual clothes. The lead singer also paints his right hand with the Ukranian flag. The group appeared to enjoy every minute on stage with great camera and light work.
8. Olga and Līgo – Saule riet (Take Away) (M: Tomass Kleins / L: Guntars Račs)
Saule Riet means sunshine and there was a lot of bright colours on stage. The song was a simple song, guitar-based,
which featured some great harmonies and a catchy chorus. Olga's voice wa astounding while 3 male and 2 female dancers did a great dance with this traditional and electronic mix. All performers wore folk costumes which showed a typical Latvian dance that can catch the eye in Copenhagen.
9. Aminata Savadogo – I Can Breathe (M & L: Aminata Savadogo)
Aminata switched the style with some blues. Her faultless
voice made the performance fascinating. Aminata was dressed alike her three dancers with a tight blue
jumpsuit. On stage there were also two female backing singers dressed in
blue. The screens were lit in orange, green and blue. 
10. Aarzemnieki – Cake To Bake (M & L: Guntis Veilands)
It was time for the lovely song which featured pure and perfect vocals with
minimal accompaniment to begin with, but it built to a wonderful
crescendo. The lead singer had a soft cute voice that really
fitted the style of the song. The band members (two men and two women)
were in a semi-circle around the lead singer all dressed in casual
clothes. Some of them played instruments like the guitar and violin. They seemed to enjoy every minute of it and they would be so much fun in Copenhagen.
11. Eirošmits – If I Could (Get Away) (M: Miks Žagars / Raitis Aušmuksts / L: Miks Žagars)
The next act was from fun to a a very weird presentation. The five piece male lineup were with a small back chin
beard while clad in large wigs and beards so large that it covered their
entire faces. One of the guitars had the Ukrainian flag painted on the back. There was many electric guitars used for this song but it was not so appealing. If one opted for a bizarre presentation, then this was the obvious choice.
12. Katrine Lukins – You Are The Reason (M: Katrine Lukins / Kārlis Indrišonoks / L: Katrine Lukins)
The run through ended by sweet Katrine clad in a red shiny top and black trousers. Her vocals were a bit out of tune and she seemed very nervous on stage. The song was a ver easy listening soft rock
track. There was an echo effect on the last note. If performed well this could hit the radio air waves in Latvia.
The show
The national final took place in Ventspils Theatre House and as in the semi-finals it was hosted by DJ and event host Ēriks Loks and the actor Nauris Brikmanis. The guests in the show included last year's Latvian hopefuls PeR, Lauris Reiniks (part of F.L.Y. – Latvia 2003) and Fomins & Thomas Klein (Latvia 2004).
The voting
A 50/50 combination of public televoting and the votes from a jury panel decided the result. We saw two rounds of voting with the first selecting three super finalists (Dons, Samanta Tina and Aarzemnieki). The second round then decided the final outcome with Aarzemnieki being awarded the winning title of the Latvian final. They will represent Latvia in the first semi-final of the Eurovision Song Contest to take place on the 6th of May.
Latvia at the Eurovision Song Contest: 
Last year, Latvia was represented by the trio PeR with the song Here We Go. The group finished in 17th place in the semi-final and thus did not qualify to the final.
The last Latvian appearance in the final was in 2008 when Pirates of the Sea came 12th in the grand final that took place in Belgrade. Latvia debuted at the Eurovision Song Contest in 2000, also in Copenhagen, and just two years later they won the Contest, with Marie N and her song I Wanna.  
Watch the Latvian entry selected for the 2014 Eurovision Song Contest in the video below: