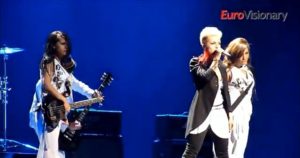 The national broadcaster, BNT, have revealed the system of their selections for 2012 with 22 hopeful names who will be participating in the semi final of the Bulgarian national selection. The semi final leg will be held on January 14th and 12 lucky names will make it to the final where they will try to follow Poli Genova.
Preparations are now set for the semi final show in Bulgaria which will be held on 14 January. The national broadcaster BNT previously announced more than 33 entries submitted to participate in national finals and an expert jury narrowed down the field for their national final from the 33 entries. Later the academy picked 22 of them to participate in the semifinal.
Running order in the semi-final was also announced with the participating names (Singer – Song Title): 
New 5 (Group) – Chance for Better Life
Vyara Pantaaleva – Vyara
Sonya Ivanova – Finalna Lyubov
Monika Kirovska -You are My Angel
Margarita Hranova – Proshka
Sunnie – Shut Your Mouth and DoIt
Tsvetelin Atanasov – Elvisa feat. DZ -Love Goes Around
Steliyana Hristova – Patyat
Viktoriya Dimitrova – Novo Nebe
Teni Omede – Without you"
Alex & 4Give – Dream
Todor Gadzhalov – Still Love You
Dess – Love is Alive
Georgi Varbanov – This is My Green Wave
Sofi Marinova – Prosto Lyubov
Better Than Grey (Group) – Dream
Svetozar Hristov – Keep Me Down
Rene Ranev – Alone
Bee In the Bonnet (Group) – You are the World
Simona Sivanio – Eternal
Ivaylo Kolev feat. Hipnotik – Searching for the Words
Go Week (Group) – The Way You See the World
The most anticipated artists to make it to the next round are Dess with the song Love is Alive abd Teni Omede
and Tsvetelin Atanasov-Elvisa ft. DZ. The semi-final show is expected to start at 19.30 CET and will be broadcast live by BNT 1 and BNT World. Twelve names will qualify to the final with the split decision of the expert academy and televoting.
In meantime, BNT also announced the system how to join the academy this year: The head of BNT will choose 21 names according to the BNT rules and one of famous Bulgarian composer Stefan Dimitrov were already invited. The other 20 names will be picked among professional organisers, singers, artists, composers, producers, poets, press members and musical schools. 
The final is expected to be held on the 28th of January in Hall 1 of the National Palace of Culture in Sofia where the 12 qualified entries will perform for the chance to represent Bulgaria in Baku in May. Last year Poli Genova represented this country with her song Na Inat and but failed to qualify to the final.