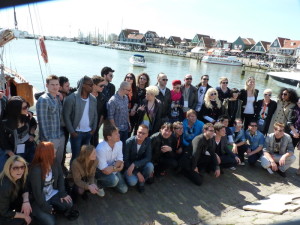 Today 21 one of this year's Eurovision Song Contest participants are visiting Amsterdam for the annual preview concert Eurovision In Concert. The Dutch trio 3JS welcomed them all to the day programme in the music and coast city Volendam. 
This year 21 participants decided to use the Eurovision In Concert to get to know their competitors in Düsseldorf next month and to show fans what they had to offer.
Today's events kicked off from the morning at the hotel where they met with the press before heading for Volendam where the Dutch representatives 3JS were waiting for them. After lunch everyone got outside and enjoyed the lovely weather – one of this year's participants ended up with wet feets though as she fell in the water. Who is it? You will have to come back later to check. 
Tonight all 21 participants will perform at the concert in Amsterdam. EuroVisionary is present and during Sunday we'll bring you videos in excellent quality from the concert where they will perform two songs each, one of course being their Eurovision Song Contest entry. Don't miss it!
We will also be able to present you for three video interviews with Maja Keuc representing Slovenia, Poli Genova from Bulgaria and Senit who will try to bring the victory back home to San Marino. It is all happening tomorrow on EuroVisionary.
The participants at the 2011 Eurovision in Concert are:
Croatia: Daria Kinzer – Celebrate
Greece: Loukas Giorkas Feat. Stereo Mike – Watch my dance
United Kingdom: Blue – I can
Russia: Alexey Vorobyov – Get you
Ukraine: Mika Newton – Angel
Malta: Glen Vella – One life
Austria: Nadine Beiler – The Secret Is Love
Poland: Magdalena Tul – Jestem
Serbia: Nina – Čaroban
Latvia: Musiqq – Angel In Disguise
FYR Macedonia: Vlatko Ilievski – Rusinka
Bulgaria:  Poli Genova – Na Inat
Slovenia: Maja Keuc – No One
Turkey: Yüksek Sadakat – Live It Up
Belarus: Anastasia Vinnikova – I love Belarus
Cyprus – Christos Mylordos – San aggelos s'agapisas
Finland – Paradise Oskar – Da da dam
Switzerland – Anna Rossinelli – In love for a while
Albania – Aurela Gace – Kënga Ime
Armenia – Emmy – Boom boom
San Marino – Senit – Stand by