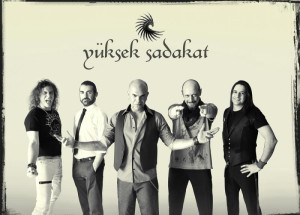 EuroVisionary have talked to Yüksek Sadakat who will represent Turkey at the 2011 Eurovision Song Contest. They talk about what makes them different from previous Turkish participants like maNga and Mor ve Ötesi, the upcoming contest in Germany and the reason behind the many good placements for Turkey lately. 
There has been a lot of talk about Tarkan being TRT's preferred choice for the Eurovision Song Contest. Do you feel you have been chosen as a secondary solution instead? 
No. Everbody knows that Tarkan don't want to be in a contest and TRT never forced him. We were working on our 3rd studio album and the Eurovision Song Contest wasn't in our minds. It was a great surprise for us. TRT has been going for rock bands since 2008 
 [With the exception of Hadise representing Turkey in 2009, ED] 
Did you write the song Live It Up before or after you were asked to represent Turkey this year? If afterwards, which thoughts did you have when writing the song? 
It was written before, but we made some changes as if it was written afterwards. First of all we had to cut the song to 3 minuntes. Then we made the song's arrangement a little bit shiny with strings and percussion. And the the lyrics also had to be changed from Turkish to English.
Have you followed the Eurovision Song Contest before so you know what to expect in Düsseldorf?
Yes, since a very long time we catch the finals on TV during our concerts. We also watched the previous years DVD's to check the winners again. We hope to be in top 5 
You have been together as a band for quite some years. If you were to put a few keywords on that time, what would it be?
Time is precious!:)
Many non Turkish people will probably compare you to bands like maNga and Mor ve Ötesi. Can you tell us what separates you from them?  
We have tiny little differences since we're all rock bands with local influences. Maybe the major difference is that we have more adult fans (over 30) than the others because we have elements of classic, hard and progressive rock mixed with Anatolian melodies. Mor ve Ötesi is close to brit-pop-rock and maNga has the turntable.
We have heard of you doing promotion in countries like the Netherlands and Germany, which traditionally gives good points to Turkey. Have you thought about the countries that generally don't vote for Turkey? 
Of course. We will be visiting over 10 countries in Europe including these countries. The schedule will be prepared in April.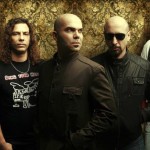 Since Sertab's victory in 2003 Turkey has become a country that practically always ends up in top 10, which was quite unusual before. Have you as a band active in the Turkish music life noticed anything that can explain this sudden change?
After that success, TRT started to pick pro musicians for the Eurovision Song Contest. The main idea is that most of the good songwriters or the artists don't want participate in the local competition. By choosing a specific artist(s) we have better songs and productions.
Have you had a chance yet to hear any of the songs you will be competing against at the Eurovision Song Contest and do you already have a few in minds, which might be the hardest to beat? 
We never think about 'beating', because logically you can't compete on songs. This year every country have very strong singers and bands at the Eurovision Song Contest. We think we will have such a great time both in the semi-finals and at the final night listening to these great artists and having fun together! Of course we noticed Norway, Ireland, Armenia, Estonia and Romania have very nice songs.
Which question that I haven't asked you would you like to ask yourself and what would your answer to it be?
"What's the meaning of your band" 
 this is the common question that we are being asked in Turkey. The name of the band comes from the direct translation of the English term Hi-fi into Turkish.The real meaning is to keep the loyalty to the music. Individuals of our band have tried to make music whatever happened in life, we all had different jobs professionally to be able to continue with the music in our minds, we didn't surrender, we survived…
EuroVisionary would like to wish Yüksek Sadakat the best of luck in Düsseldorf with their entry Live It Up.