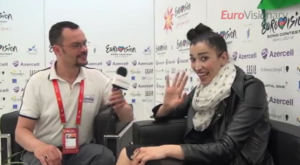 Shortly after Italy's second rehearsal on stage today EuroVisionary caught up with her for a little talk where she wish a contest like the Eurovision Song Contest to be held more than once a year. In this video she also sings a bit from her song. 
That and a lot more you can hear about in the video interview below. 
We recommend watching the video in 3D to enjoy it to its fullest, but should you want to this can easily be turned off in the player below giving you a standard 2D image.