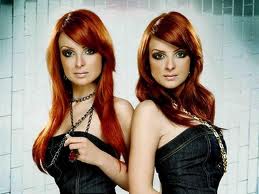 There are two sets of twins participating in Düsseldorf next month.  EuroVisionary managed to catch up with Daniela and Veronika Nízlová, the Slovak TWiiNS, and found out a little about their personalities, Belgrade and Justin Timberlake.
First, can you tell us how you first got into singing, and how your first album recorded in 2000 (as the Tweens) came about.
D: We started to sing as very small girls.  Our dad played in a band and we learned every song that he practiced.  So that's how we got into singing.  At age 10 we won a competition for young singers entitled Hviezdicka (Little Star) on Slovak Television.  And that's what actually started our professional career.
V: In 2000 we recorded some demos and sent them to various labels.  After a few weeks we signed a contract with a big Slovak label and released our first album Tweens.  In all we released five albums and were awarded three Gold and one Platinum records.
Who are your musical influences, and if you could perform a song with anyone (living or dead) who would it be?
D: We're inspired by Beyoncé, Rihanna, Katy Perry… – They are amazing singers.
V: If we had an opportunity to sing with anyone, definitely we'd like to perform with Justin Timberlake.
Moving onto Eurovision in 2008 in Belgrade, you backed the Czech Republic's Tereza Kerndlová.  How did you get involved with Tereza, what are your memories of Belgrade, and what did you learn from the Eurovision experience?
D: We starred in a musical at Prague's Broadway Theatre with Tereza's producer Jan.  And one day he called me if we could sing with Tereza at Eurovision.
V: We have only the best memories of Belgrade.  It was such a great experience to sing on a big stage in front of a huge audience.  We really enjoyed the city and its people.
You've said that you'd like to represent Slovakia in Eurovision.  What made you try this year?  All previous Slovak entries have been in Slovak, so do you prefer singing in English or Slovak?  Will there be a Slovak version of the song?
D: I have to say that we're honoured to represent Slovakia at Eurovision.  But this year we thought that Slovakia may not participate.  Then a Slovak broadcaster approached us and we became one of a few candidates.
V: We now prefer to sing in English, but not because we don't like our beautiful language.  The reason is we moved to Los Angeles last year and are working on a new English album for worldwide release.
D: For now we don't plan to record a Slovak version of I'm Still Alive.  We will focus on our promotional tour through Europe and putting our show together for Germany.
How did the collaboration with Bryan Todd happen?  Does he know much about Eurovision?
D: In 2008 we worked with the famous sound engineer Jimmy Douglass on our first single I don't know in Miami.  He put us in contact with Bryan Todd. That's how we started our collaboration with him.
V: He knows a lot about Eurovision because his fiancée and co-writer of our song Sandra Nordström is Swedish.  And you know Eurovision is a really huge event in Sweden.
Are you fans of Eurovision?  What have been your favourite songs through the years?  Have you heard any of the songs from 2011 and do you have any favourites?
D: We're definitely fans of Eurovision.  When we were young girls we watched Eurovision for the first time and we said: "One day we wanna sing there".  And our dream is coming true.
V: Our favourite songs are by Aysel & Arash, Helena Paparizou, Brainstorm, and Yohanna.  And we have a few more.
D: We've heard some from this year and we like Haba Haba. 
What are your plans for after Eurovision?
V: We will go back to work in Los Angeles.  We plan on releasing our next single "Welcome to Hollywood" written by Andreas Carlsson and Bryan Todd sometime this spring.
D: We will work on other new songs and plan the tour in USA.
It's unusual this year that we have two sets of twins taking part (Slovakia and Ireland).  But how can we tell Veronika and Daniela apart?  What are your different personalities like?
V: We have a very similar base, however there are some differences.  Those would be really hard to recognise for a person who doesn't know us very well.
D: People who know us would say I'm more of the leader, but that's more in a daily life.  A lot of them think I'm older which is not true.  I'm actually introverted and she's more of an exhibitionist which is a huge advantage in this business.  Like when we're in front a camera or on the stage: Veronika is a leader there.
Thanks for your time, and the best of luck in Düsseldorf.