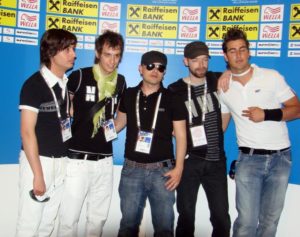 Last year's San Marinnese participiant at the Eurovision Song Contest, Miodio, join us to share their experiences at the Eurovision Song Contest in Serbia, the Sanremo Festival in Italy and the band reveal that they might just be in Moscow in May despite their country not participating.
You were at the Eurovisison Song Contest in Serbia last year, could you tell us how the atmosphere was? It's well known that the contest is taking more importance for singers looking for future success, is it also acceptable for you?
Well.. the athmosphere was great! Everything was the best, astoundingly professional, and all the people have been incredibly warm, communicating an amazing feeling. It was a big step for us.. although our country have been not really involved supporting us during this event and we were without experiences about ESC. As a consequence of our participation, we did some concerts in different countries during last summer, and we hope to do it again soon…
So do you think that your unfortunate result in the 2008 Eurovision Song Contest is the reason the San Marino broadcaster decided not to participate again?
Oh no.. for sure. It's only a political choice. We think our government doesn't understand the spirit and the importance of this event. Anyway, we consider our participation successful. The result isn't important. At the Eurovision Song Contest, the winner is not always exactly the best singer or the best song, but something different. On the escradio after the contest, we've been in second place in the popularity ranking for the esc bands. Not too bad for the smallest country!
You released an album, AVANTGARDE. How much was it successful for you? Will a new album come soon? If yes, can you please give us some details about the release date and more? Or do you have other future plans?
In agreement with our label, considering the very bad economical situation of the major record companies in Italy, we have chosen not to publish the whole album in 2008, but only singles. At this stage it will be ready for the spring, and we have also worked around new songs at the same time.. so, at the moment we have almost two new albums ready! Just now the new single, Evoluzione Genetica, is coming out and we'll have some concert dates in Italy. We are also working on an event coming out in about a month called Miodio L.O.W. (Live On Web): There will be a live concert in a Club in San Marino transmitted by streaming real time on the band website www.miodio.eu. You will be able to watch it from all over the world, and it will be our thanks to the support and love from all the fans of all the far countries. We will play new and old Miodio songs. It will be great!
You also participated Italian Sanremo Festival. How did you decide to join it? Could you compare Sanremo and Eurovision Song Contest for us?
Well… Our participation was almost a joke, just for fun! We are not the right band for this kind of music environment. The Eurovision Song Contest and Sanremo are VERY different! Sanremo Festival is an old style event with old style music and old style rhythm. The Eurovision Song Contest is much more dynamic and spectacular, and a lot of more fun! Especially parties and after concerts, they smile. Seriously, the big difference is the artists attitude, very easy in the Eurovision Song Contest and too much "heavy" in Sanremo. Anyway, they are two great TV shows, even if we prefer the emotion and the volume of a real live concert.
And finally, which question that I haven't asked you would you like to ask yourself and what would your answer to it be?
I wanna say to you about that.. well.. we love to peck, when it's possible, with our fans on myspace and facebook social networks (..write to us! ) and to know that some girls or boys go to school in the morning listening and singing on the bus to Complice is the most emotional and beautiful thing after the 2008 Eurovision Song Contest.
Thank you very much. We would like to wish you our best for your future music career from the EuroVisionary team. La pace di un momento, é tutto ciò che siamo, é tutto ciò che sento!
Thanks to you too man! And, maybe we will be in Moscow to enjoy the Eurovision Song Contest 2009 with eurofans, so see you at the Red Plaza!