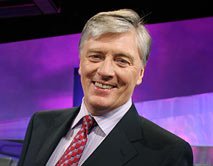 Last night, after all the excitement of the voting in the Irish national final, we spoke to 1988 Eurovision host, Pat Kenny. He told us about his experience of the contest that year, what he thought of last night's songs and his view on the return of the jury to the contest.
Are you happy with how the show went?
It had huge energy, we were happy with the choice of six songs at the end we got a vibe from the one that won.
At the beginning you couldn't say which one would triupmh at the end I suppose we got a vibe about the one that won from the studio audience which suggested that it had a fair win behind it, but in rehearsals couldn't tell!
Which was your favourite sng from tonight's show?
I mentioned number two, Out Of Control, I thought that had that Balkan feel. Laura-Jayne Hunter did a great job, but maybe in audio it kinda was better than in performance, maybe visually it didn't quite live up to the audio which I had heard a few weeks ago.
That being said, I though the Latvian entry was terrific, really terrific, a great song, a classic song and I thought the one that finally won, Et cetera, when I heard it in studio and I heard the reaction of the studio audience I thought that's gotta be the one, that's gotta be the one because a couple of hundred people in studio will generally mirror what's happening out in the greater community.
How did it feel to host the Eurovision Song Contest in 1980 and what has Eurovision meant for your career?
Hosting with Michelle Rocca, that was fun, just such a fun night. I remember as we went back to the venue about an hour after the whole thing was over and already it was being taken apart and that kinda teaches you the lesson of how ephemeral television is.
I remeber looking at the hugely expensive set and thinking most of that's going in the skip. And by 12 O'clock on Sunday it was bare, everything was gone and if ever you need a lesson in what television is all about, you're only as good as your last show, that is the lesson that I learned that night.
But no, Eurovision is not central to my career, peripheral to my career, but always great fun.
Do you think the return of the jury will made a difference to Eurovision?
Yeah, I think that it will mitigate the bloc voting, highly nationalistic, geographical, geopolitical voting that goes on. I dont think it'll eliminate it entirely, because there is a phenomenon whereby in the same way as we are familiar with the pop music of Britatin, it dominates our charts for instance, the Baltic states will know each others music. The rhythms of Turkey and the rhythms of Greece are not terribly dissimilar, so it's kinda logical that they like the sounds that they make for each other.
They also, in parts of Europe which are realtively new to the contest, put up their big stars who tend to be regional stars as well. So it's not surprising that some acts get a big vote even though the song itself might not appeal to us. It would be like if you had a competition that just centered on these islands and we put in Westlife, I mean we'd win, end of story.