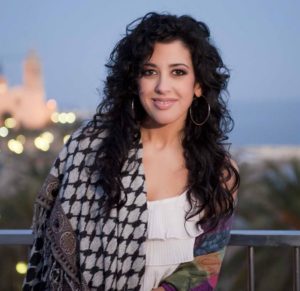 EuroVisionary have talked to Lucía Pérez who will represent Spain at the 2011 Eurovision Song Contest. She talks about how were her first steps in the music business, what made her apply for Destino Eurovisión this year, her feelings and her new album that will be released in mid-April.
Q: When you were only 16 years old you were the absolute winner of the young talents TV show called Canteira de Cantareiros broadcasted by the Galician regional television. How was that experience where you were catapulted to fame in your autonomous region?
A: I was a music contests and festivals lover and it was a great experience. Also, it was a fantastic springboard to record my first album and then I realised that I wanted to be a professional musician.

Q: This is not the first time you are going to represent your country at an international song festival. You did it in Chile at the Viña del Mar Song Festival where you got a superb second place. How do you remember that experience?
A: It was such a dream come true. It was an unforgettable experience and very rewarding professionally. Also, as I was among the three finalists, I felt very loved by the Chilean audience.
Q: Your love for music goes far beyond being an artist or songs performer because you are also studying Musical Teaching and Pedagogy. Therefore, do you think it is important to have a solid academic background?
A: Having an academic background, in my case entirely related to my field can be very beneficial because it makes you more demanding with your work and, above all, I think the most important thing for life is have a good professional training.

Q: What did you do professionally before you apply for Destino Eurovision and what made you apply as a candidate this year? What did you enjoy the most from the experience?
A: Although I am so young, I have been working in the music business for eight years. It has been many years of hard work and effort to get my place in the Spanish musical scene. Many people encouraged me to apply for Destino Eurovisión and, as this year the selection process was more reliable, I decided to apply. The truth is that I bless the day that I did it because from the beginning I am enjoying every moment to the full.
Q: What did you think when you listened Que Me Quiten Lo Bailao for the very first time?
A: I thought it was a happy song and very catchy, like the song of the summer.
Q: Do you have to pinch yourself everyday as you say in your song, to be aware of you will be the Spanish representative in the 2011 Eurovision Song Contest? Have you ever imagined you would be there?
A: Yes, sometimes I have to pinch myself, hahaha. The most important thing is to know always where I am and never forget all the work that I have done for being here and, therefore, I have to work even harder. Sure, it is like a dream! And I will enjoy everything to the fullest.

Q: In the video clip you are always with a smile on your face and you have said that you want to transmit your optimism to all the Europeans viewers. Will we see something similar to the video clip as staging in Düsseldorf?
A: What you see in the video clip is totally my personality. I am so cheerful and, precisely, the essence of the song is joy so that will be present on stage in Düsseldorf.
Q: Do you think that performing at the 22nd position, the same as Lena, could be destined to end up at the same position as she? If so, what would winning the Eurovision Song Contest mean to you and Spain as a community?
A: I would love having the same good luck as Lena but I think that it will not depend on the start position. Anyway, I am very happy because the 22nd one is a very good position. Winning this year would be like being part of the history of the Eurovision Song Contest… I can not imagine!
Q: How will be the promotion of the song? Are you planning on visiting and promoting Que Me Quiten Lo Bailao in other European countries?
A: Yes, I will be in Zurich, London and Geneva with the Galician and Spanish colonies. In addition, I will record in a few days the English version of the song and then it will broadcast on the radio and through the social networks so that all European people can listen to it.
Q: Have you heard any of this year's entrants? If so, who are your favourites?
A: Yes, I heard some of them and the truth is that there is a high level among them. At the moment it is still early and no one knows which countries will reach to the final.
Q: Who is your favourite past Eurovision Song Contest participant?
A: I highlight the song Vuelve Conmigo by Anabel Conde. It was a great song that achieved a great position. I hope to repeat her success soon!
Q: You are already working on your next album which will be released few weeks before the Eurovision Song Contest. What will we find on this album?
A: The album will be released in mid-April and it is called Cruzo los dedos (Fingers crossed). Until now, I am well known in Galicia and in some specific places in Spain so, in this album, you will find some new songs such as Abrázame that was among the finalists of Destino Eurovisión but also some tracks that were already in my previous albums. All these songs I think it will be a good description of myself and my artistic style.
Q: What are your ambitions after Eurovision?
A: I think my participation in the Eurovision Song Contest will bring freshness and joy to my professional career and the position achieved is not going to determine my future. I will keep working until I retire within several years working on the stage. Of course, if I win, everything would be easier.

Q: Which question, that I haven't asked you would you like to ask yourself and what would your answer to it be?
A: The truth is that your questions were great and I think you have not missed anything. Just thank you for the interest you have shown on me and I hope that after the Eurovision Song Contest you continue supporting my career, no matter what happens.
EuroVisionary would like to thank Lucía Pérez for talking to us and we wish her all the best in Düsseldorf with her entry Que Me Quiten Lo Bailao.