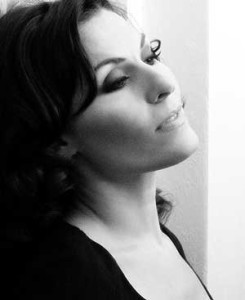 Kaya Bruel is Danish singer and actress. She worked on Danish Radio, on albums making music, animated films and television shows. Now she will participate in the Danish Melodi Grand Prix with song Only tonight.
1. Hello Kaya, how are you feeling? The Danish national final is fast-approaching. Do you have any jitters?
I am looking so much forward to the show in Aalborg.
2. You are very well-known as a TV, music and movie star. Can you tell us which of three you enjoy the most?
I enjoy singing the most, that is what I am from birth, a singer, it runs in my blood. But I am also a performer and that goes hand in hand with acting as well. So, to sing a song, with its story, or to tell it by words is very close, its all about exprsesion.
3. What do you think about the Eurovision Song Contest in general?
I think it was good and bad periods. But of course, with all that years behind, it develops all the time. And now, I guess the time was right for me to participate.
4. Have you watched the Eurovision Song Contest over the last few years and do you have some favorite songs or participants?
I was actually in Jury last year, in the international contest representing Denmark. It's quite a big range. I can't remember my favorite, but it wasn't the winning song…
5. You have tried a lot of different genres throughout your career, but the average Dane probably still associate you with the song Trafic Jam. Can we expect another smash hit like that or what should we prepare for?
Well of course a smash hit!
6. It has been mentioned that you will be wearing the biggest dress in the history of the contest stage, such "gimmicks" are often used to take attention away from a weak song. Are you worried that the song would not be strong enough to do without that?
Not at all, I am so proud of the song. The dress is just a "minor" thing. But dresses and costumes has always been an important part of Eurovision show.
7. There will be, quite naturally, some extra attention on you as your grandmother won the Dansk Melodi Grand Prix in 1965. Do you feel an extra pressure on you to live up to that or is that so many years ago that it isn't relevant?
I am very happy that my grandmother was the part of it too, and I feel a good connection to her, now she isn't with us anymore. Not pressure (she passed away in 1996).
8. What kind of music you like to listen and to enjoy?
I like all kinds of music. I like old vocal jazz with Peggy Lee, country with Alison Krauss and love to dance to club music and r'n'b like Justin Timberlake, Beyonce and Britney. It's like the best when it's well produced with lot of bass.
9. Have you ever dreamt of representing Denmark at the Eurovision Song Contest, and do you hope you will this year?
I haven't that far. For now I am just looking forward and consentrating on the Danish show.
10. If you didnt become a media star, what would you be?
A nurse or maybe a midwife or make up artist for movies and theater.
11. Do you have plans to do some duet with some singer soon?
No, not really. But I like the voice of Rasmus Seebachm which father also participated on the Eurovision several times. Rasmus have a really nice, rusty voice, it would be awesome to sing duet with him.
12. Can you describe to us your song Only tonight?
The song is about love beyond reach, or maybe an affair beyond reach, it can be only in dreams. It has a little Jazz/Soul feeling, but produced in very modern up tempo club-dance universe, like Kylie Minogue or Madonna.
13. Which question that I haven't ask you, would you like to ask yourself, and what would your answer be?
What is your next project? –  I have a part in new DR1 drama TV show, and then I would like to make some more songs in that same genre as Only tonight, to follow up after contest, maybe a whole new album!
Here is her song for this year Melodi Grand Prix, Only tonight by Kaya Bruel.
Links