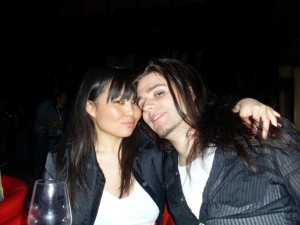 Sinéad Mulvey and Black Daisy will represent Ireland in the 2009 EUrovision Song Contest in Moscow. The four person songwriting team behind Et cetera include long time Eurovision fan Jonas Gladnikoff, we talked to the talented Swede to find out how he feels about the win.
So, how are you feeling now, you've just won Eurosong 2009?
I'm still quite in shoick actually. The voting was so quick and all of a sudden we were on stage and we had won. I haven't taken it all in yet.
You came very close in Denmark recently.
We did, actually it was only the Monday after we came back from Denmark that we found out that we were in the Irish final.
The song [Believe again] was part written by Ronan Keating, so that's kinda funny. He went for Denmark and Ireland got a Danish person [Chriatina Schilling].
It will be quite fun to meet him in Moscow
What were you thinking when you saw Sinéad take the stage?
All the rehearsals have been good, but they peaked at the final performance. All the energy on stage was just perfect.
What song did you see as the biggest threat?
We were a bit scared of So what because it was very Irish. It was the bookies favourite. It was surprising that it didn't do better than it did. The oter ballad obviously took all of its votes.
Moscow is calling, how does it feel?
That's gonna be a lot of fun, especially with this team. We've been having so much fun in Dublin.
We want to do really well in Moscow, we're aiming for first, but even if we end up last we'll have a great experience.
What do you think about the juries' return to Eurovision? Will it even the playing field for Ireland?
Here in Ireland, you can see that the jury and the televote agreed. It's possible that it will be the same in Eurovision. Its also possible that it will be totally different.
I don't know if it will affect us for good or bad, but I hope it will be good for us.
Any plans for the stage how?
This was really good, so we're sticking with the same format.
And finally, you've written for Una Healy, from the Saturday's. Has she been in contact with you about the Irish national final?
She actually contacted us a few days ago and wished us good luck.