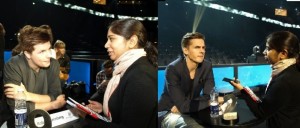 Today, Thursday all of the Swedish finalists are rehearsing in Friends arena for the first time. Before the rehearsals started EuroVisionary got the chance to talk to Robin Stjernberg and David Lindgren.
Robin Stjernberg
This is the first time you're participating in Melodifestivalen, how has the experience been so far?
The greatest time of my life, I really love it and I love the people working with us. It's a great experience.
What would you say is the biggest difference between participating in Melodifestivalen and Swedish Idol?
Now, first I can show myself as an artist and a songwriter. I'm opening up all of myself to show everyone who I really am, not a cover singer as I was in Swedish Idol. So it's a huge difference.
What was going through your head when they announced you as a finalist last Saturday?
I started crying. I was speechless. I haven't melted it down yet, I'm stil up in the sky.
What question that I didn't ask you would you like to ask yourself and what would the answer be?
That was kind of hard.
What did you eat for breakfast?
Answear: I ate eggs, bacon and had some coffee and juice. It's a great start.
David Lindgren
Last year you were kind of unknown to the audience, but this year you have been a favourite right from the start. What would you say is the biggest difference between this year and last year?
The biggest difference is on my first semifinal
I was a favorite, that was new for me. I had to get used to that and get used to the pressure from media stuff like that and that was new and kind of hard actually. That was new and now it's actually kind of the same for me in the final. I'm kind of an underdog now again, so I'm just enjoying the ride and going to have a blast.
You can call Melodifestivalen 2012 for your big breakthrough, how has this last year been for you?
It's been a lot of fun, it has been hectic, I've been working a lot. I've been fulfilling a lot of my dreams, I released a new record and recorded my own TV show and a movie. I been doing so many nice things, I seen all of Sweden, singing and performing and meeting a lot of people.

Why did you want to participate again in Melodifestivalen?
I felt pretty straight afterwards that I wanted to do it again if I got a song that's good enough. I think we have the song. I don't know I wanted to use the moment to do it again to see if I could do even better this year, so we'll see.
How have you been preparing for the final?
Actually I've been not thinking about it at all
for like 4-5 weeks. I've been recording my album and I've been working. So it's just the last three days now I've starting to preparing again. But of course I been in the gym, exercising.
Have you made any changes in the performance?
Yes some small changes in the dance break and some small changes with the clothes for the dancers and some new camera angles.
Anything you can tell us?
We changed the camera angles in the dance break just to make it easier to understand what's happening. Changing the lights a little bit so you can see that everything is flying away and stuff like that. But it's hard to tell before you see it in the viewing room. We have to practice today and see what we are going to do.
What question that I didn't ask you would you like to ask yourself and what would the answer be?
Are you going to party on Saturday no matter what?
Answer: Yes I will!
EuroVisionary would like to thank Robin Stjernberg and David Lindgren for their time.