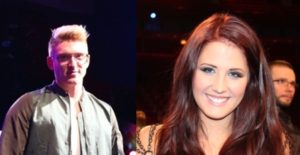 After the final of Melodifestivalen 2012 EuroVisionary managed to get a few words with runner up Danny Saucedo and Molly Sandén.
Danny 
How do you feel right now Danny?
Disappointed and a bit down.
You have been one of the favorites right from the start, but why do you think your song didn't go all the way?
Seriously I don't know, I don't have a good answer to that question
What will happen next?
Next up for me is to finish my album, to just sit in my studio and write.
Will we see you in Melodifestivalen again in the future?
Sometime, I don't know. Maybe. I won't be singing next year as a solo artist.
Molly Sandén
How do you feel?
I feel great, I'm so happy and grateful and just to be here in Ericsson Globe, it's amazing. Those three minutes on stage was the best three minutes in my entire life. I felt, it was so many emotions at the same time and I really enjoyed myself. I was thinking about all those people that are lonely and maybe heartbroken and I was trying to send all my love and my, you know my thoughts to them. When I got of stage I was crying, I was so happy, satisfied and proud.
So it was happy tears then?
Yes it was absolutely!
Will we see you in Melodifestivalen again in the future?
I don't know, you never know, you never know. It's very hard to say no to Melodifestivalen. It's so much fun. So maybe in the future.

What will happen later tonight?
Tonight I'm going to meet up with my sisters and my family and I'm gonna, we're going to party all night long. I'm gonna dance until I drop dead.
What will happen in the future?
On Monday I start to record my new album. I'm writing new songs and I'm very excited to go out touring this summer.
 
Is it decided when the album is going to be released?
Sometime in the beginning of April and the beginning of may.