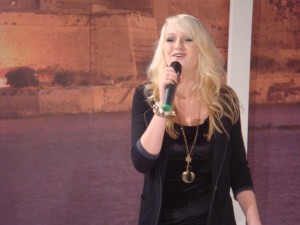 Sophie Debattista talks about her hopes of representing Malta at the next Eurovision Song Contest and what she has been up to since taking part in the 2006 Junior Eurovision Song Contest.
Hello Sophie. What have you been up to since competing in the Junior Eurovision Song Contest in 2006 with Extra Cute?
Hi there, you know whenever anybody asks me this question I never know where to start as so much has happened. When I competed in the Junior Eurovision it was definitely the point where I first started to believe in myself, a little bit anyway. It was an experience of a lifetime which I'll never forget! Since the 2006 Eurovision, things have been looking up, and I know for certain that the point where I stood on that stage and sang Extra Cute in front of Europe was the start of what I hope one day will be a long career in the thing I love the most, Music! Over the last year or so I have been working on trying to create hopefully my own original sound and at the same time I have been performing all over Malta. I've slowly started to work my way into the UK market too having been taken on by a British Management company called 'Thru The Mill' who have been helping me develop as an artist! I have acted in a leading role for a German TV film, which was an amazing experience, and I've even been writing songs! So you can pretty much say I've been quite busy!
Can you tell us something about the song you have submitted for the Malta Eurosong?
Well for obvious reasons I can't say too much but what I can say is that it is really positive and happy sounding and we all feel would be a suitable song to represent Malta.  I have a lot of confidence in the song, but I also have no illusions about the fact that there are going to be many other extremely talented artists also no doubt with great songs, so for me to even get through to the judging phase is going to be really tough.
When will you release your next single?
My next single should be released sometime in 2011, around the time that I release my album.  So, it is full speed ahead and really exciting stuff.
What can expect on the album
The new sound to my music may well take some by surprise, as it is quite different to what people are used to hearing from me. There is still a bit of the 'old Sophie' in there but with a change, an exciting twist.  This has mainly happened due to the fact that I am growing up and maturing, and you can definitely hear that maturity in my voice.  All being well you should get to hear the album by summer 2011, and I hope that when you hear it, you will be as excited listening to it as we were making it.
Are there plans to release the album outside of Malta?
Yes, there are big plans being made by my management 'Thru The Mill' and me for the release of my album outside of Malta. It is all really exciting and I can't wait to see what everyone thinks of my new sound to my music.
Who are your musical influences?
My two main music influences are definitely Michael Jackson and Rihanna.  MJ is and always will be the King Of Pop and I respect thoroughtly what he's about.  He was such a show man and always left the audience wanting more, the way in which he stunned the audience also stuns me, I just look up to everything he achieved in life.  I also love Rihanna.  She really knows how to put on a show and give such amazing vocals to her jaw dropping performances, she commands attention when she is on stage which is another thing I like about her.
Do you have a favourite Eurovision song?
I think they are all amazing songs and every year I always have my favourite, but if I have to choose one it would definitely be Lena's winning song for Germany, Satellite.  It is such a feel good song, I always want to jump up and dance whenever I hear it.
Did you watch the Junior Eurovision Song Contest this year?  If so, what were your favourite songs and how did the show compare to when you took part in 2006?
Yes, of course I did.  I think all the songs were great, and all the youngsters gave such a great performances on the night.  I could not choose between them, they were all my favourites.  I think the show was of a very high standard and very well produced, so I congratulate all the organisers for such a great job.  I also think it compared very well to the 2006 Junior Eurovision, I loved it.
What question that I have not asked you, would you like to ask yourself, and what would your answer be?
Hmm…let me see.  Actually, I suppose I might ask 'has any of this changed me?' and the answer is 'no'.  I am still the same Sophie enjoying my youth and living in Malta and following me dreams.  The only other thing I want to add is that it has been a pleasure having a chat with you, and I hope whoever reads this will get inspired to fulfill their dreams too.
Thank you, Sophie.  We wish you lots of luck.
For more information about Sophie visit www.totallysophie.com