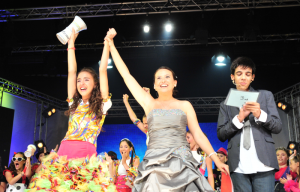 Nicole Azzopardi will represent Malta at the Junior Eurovision Song Contest in Belarus with the song, Knock Knock! Boom! Boom!.  Nicole speaks to EuroVisionary.
Hello Nicole, we at EuroVisionary would like to congratulate you on winning the Malta Junior Eurosong. What were your feelings when you realised that you had won the contest and would represent Malta at the Junior Eurovision Song Contest?
First of all thanks a lot for your nice comments. To say the truth I was crying with happiness and was very excited. When I heard the presenters call the name of the song at first I wanted to shout and jump with joy but then I felt frozen. I cannot explain the emotion. The feeling was so good.
Could you tell us something about your song, Knock Knock!..Boom! Boom!?  What style of song is it and what is it about?
The song kicks off as a ballad but suddenly it changes to an ethnic dance type of pop. I chose this style as I feel that the sounds of the accordion and the mandolin fit perfectly well with traditional Maltese folk music. The song message is about a girl that is halfway between childhood and youth. In my song I stress that young people are the future and are already 'knocking on tomorrow's door'. In the song I incorporated a traditional Maltese Rhyme 'bum bum il-bieb' which literally translated means knock knock on the door.
Have you previously taken part in the Malta Junior Eurosong contests?  If so, could you tell us something about your songs?
Yes, I've been taking part in the Junior Eurosong year on year since 2007. Each year I made it to the final selection. In 2008, I had two songs that made it to the final.
2007 Life Is A Playground is about music that has no frontiers, all the world is a playground of music and joy
2008 Once Upon A Time is about a world that is gone, a world full of birds and flowers, the message was to look after the world and the environment that we live in.
2008 Good Times is about happy times, the sharing of smiles and joy.
2009 Fun, Fun, Fun is about the pressure that is put on children to study and catch up with school works and exams. A little girl sings about stopping the exams and homework and to have fun, fun, fun.
Have you taken part in any other music festivals in Malta or in other countries?
In 2004 at the age of 7, I participated with the song Sorridi and placed 2nd in the international festival Verdinote held in Italy. In 2005 I placed 1st in Romania in the international youth festival Ti Amo with the song Sono Troppo Birichina and placed a joined 1st in the Tralcio D'Oro an international festival held in Italy with the sweet song Che Frana.
Amongst numerous local festivals, my local success includes an outstanding record at the popular festival Fl-Ghaqda l-Melodija where I placed 3rd in 2004 with the song Mal-Muzika Flimkien, Overall Winner (Children, Adolescents and Adults sections) and Best Presentation and Choreography in 2005 with the song Anglu Bellu and 2nd place in 2006 with the colourful song Il-Magija Tat-Tfulija.
In 2007 I made it to the finals of L-Ghanja tal-Poplu where I placed 3rd in the section for youth besides winning the best interpretation with a Latin song called Evviva t-Tfal. Another success is my participation in the song festival L-Ghanja Tal-Maltin in July 2008. There I placed 1st in my section and won the best interpretation over all the 4 sections in the festival by performing the song Fit-Triq Tan-Nofs.
Do you have any favourite songs from previous Junior Eurovision Song Contests?
Yes of course, I liked very much Daniel Testa with Junior Swing for Malta in 2008 and Ralf Mackenbach with Click Clack in 2009. I also liked the Russian Tomalchevy Twins, the winners of the 2006 edition.
What are your favourite types of music? Do you have any specific singers or groups that you like?
I listen to every type of music especially of Mina, Alessandra Morosi, Inna, Britney Spears, Mariah Carey, Beyonce and Shakira, in particular I like Waka Waka by Shakira as it got the world dancing together during the football World Cup and beyond.
What are your ambitions for the future?
In the future I would like to become a professional singer. Until then, I wish to host TV shows in relation to music, kids stuff and animals.
What question that I have not asked you, would you like to ask yourself, and what would your answer be?
It would be – what is your aim for the Junior Eurovision Song Contest?
I have never travelled to Belarus before. I will enjoy the change in weather conditions and the culture and language of a new country. I am certainly looking forward to this great event. I will surely do my utmost to represent my country. I am sure that even though there will be some language barriers, I will easily make friends with the other contestants. I wish to promote the culture of my country and share the experience and knowledge with others. I wish that more and more people get to know how friendly, warm and welcoming the Maltese people are.
Lastly, I would like to say thank you to the jury, the Maltese and Gozitan public, all the children who added me on Facebook, my dancers, and the most thanks goes to the team that supports me very much.
Thank you, Nicole.  We wish you good luck in Belarus on 20 November 2010.