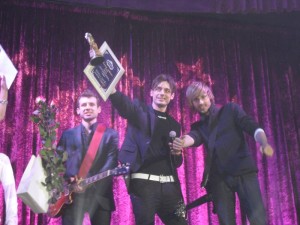 Litesound will represent Belarus at the 2012 Eurovision Song Contest with the song We Are The Heroes.  EuroVisionary caught up with the band in Minsk where they were performing and presented with a special award.
Hello Litesound – would you first introduce yourselves
Hi, yes, we are Dmitry and Vladimir Kariakin (we are brothers) and Jacopo Massa (I am from Italy).
How long have you been together?
We have been good friends for a long time.  We have been together now for four years. We started to have great success after the New Wave Stars competition held in Latvia three years ago.
What is the reaction in Belarus since you were selected for Eurovision?
It is a long story as we were not originally selected after the Euro Fest selection.  There was a problem, and a saga of events, after the original and song was selected. After a few days we were instated to represent Belarus at Eurovision.
How are your preparations for Baku and what promotional events do you have planned?
We have not had the opportunity to make a big promotional tour because of various commitments. But we are still visiting some countries and will visit the Netherlands and Belgium in the coming days for some interviews and performances.
Would you tell us something about the spectacalar music video you are preparing for We Are The Heroes?
The video will be dedicated to the special emergency services operating in Belarus. They make a difference to peoples lives and they do an amazing job.  There will be some surprises and explosions.
What plans do you have for your stage performance in Baku?
We are working on this all the time. We are worrying about it but we are excited and there will be some surprises. We hope you all will like it.
Are there plans to record We Are The Heroes in any other languages?
Yes, for sure.  We have the final version for Baku produced and mixed in Greece. But we already have versions in Belarussian, Turkish, Spanish and Russian.
Have you listened to the other songs in this year's contest?
Yes, of course. There are many great songs. For example the Turkish song is great. We are also privileged to share the stage with Engelbert Humperdinck. He is incredible.
Is there any question I have not asked you, that you would like to ask yourselves, and if so, what would the answer be?
Well, we are very grateful for this opportunity to be on the Eurovision stage. We love you all and thank you to everyone for their support.