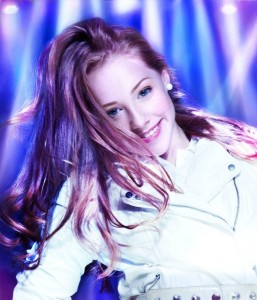 Lerika represented Russia at the 2012 Eurovision Song Contest with her highly acclaimed performance of her entry, Sensatsiya.  Here she talks to EuroVisionary about her Junior Eurovision experiences (she also took part in the 2011 contest representing Moldova with No, No), her career so far and her future plans.
First of all, Lerika, congratulations on your excellent performance at the 2012 Junior Eurovision Song Contest.  What were your impressions of the contest and your experience in Amsterdam? 
Thank you very much for your congratulations. The contest was very well organised. I was impressed by the beauty of Amsterdam.
How did your experience compare to your previous participation at Junior Eurovision when representing Moldova?
I was very more confident thanks to my previous participation. 
Did you become friends with some of the other acts at the Junior Eurovision both in 2011 and 2012, and do you keep in touch with them?
Yes, I tried to be friendly to everybody and I try to keep in touch with them.
Going back to when you won the national selection in Russia.  What were your feelings when you realised you had won?
It was unexpected for me, but I had dreamed about it for a long time. I felt happy, grateful and responsible.
Do you have plans to release an album?
I am working at it with my parents and teachers.
Have you performed at any other music festivals in Russia, Moldova and other countries?
I have performed at about 20 music festivals, in Russia, Moldova, Ukraine, Italy, Estonia, Armenia and others.
What are your favourite Junior Eurovision songs from previous years?
I enjoyed  "Malenkiy Prints" by Katya Ryabova (Russia 2009), "Europe" by Kristall (Ukraine 2011) and "Ali Baba" by Stefan Roscovan (Moldova 2010).
Did you watch the Eurovision Song Contest that took place in Baku in 2012?  If so, what were your favourite songs?
Yes, I watched the show. My favourite songs were: "Party for everybody" by Buranovskiye Babushki (Russia), "Euphoria" by Loreen (Sweden) and "Love is blind" by Donny Montell (Lithuania).
Who are your musical influences?
Celine Dion, Michael Jackson , Seal, Christina Aguilera, Lara Fabian, Adele.
What are your ambitions for 2013 and the future?
My ambitions are to make people happy with my new songs, videoclips and performances.
Finally, is there a question I have not asked you, that you would like to ask yourself..and what would your answer be?
It would be – Would you like to participate in the ESC?  I have it in my plans and I hope that my plans will be realised.
Thank you Lerika..good luck with everything.
Thank you for writing to me and asking so many interesting questions!