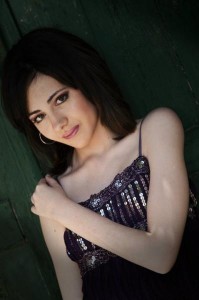 Malta will select the act to represent them at the Junior Eurovision Song Contest in Minsk, Belarus on Saturday 4 September 2010.  One of the participants in the Malta Junior Eurosong final, Domenique Azzopardi, speaks to EuroVisionary.
Congratulations, Domenique, on reaching the final of the Malta Junior Eurosong.
Have you participated in the Junior Eurosong in earlier years? If so, can you tell us something about your participation?
This is my fifth time in the Junior Eurosong. The first time that I participated was in 2004 when I was 8 years old with the Talk To Me.  I ended up in 7th position. It was my first experience and I will remember it forever. The year after, I ended up in  3rd position with the song It's Time To Party.  This was another experience which made me work harder and a memorable one for it's position. The Key was the entry that made to the finals the year after.  I ended up in 7th position. That year's Junior Eurosong was different as it was held in an open air theatre so the vibe was completely different.  Junior Rodeo sung with Kurt Galea was a country type song which ended up in 4th position.  A lot of teamwork was held up as it was a duet and the excitement was shared.  After 2 years of trying to be a finalist I have my last chance.  I am certain that this year the experience will be a memorable one too.
Please tell us something about your song this year, Jigsaw Puzzle?
This year's song Jigsaw Puzzle was challenging and also risky for me.  It is a different syle that will surprise the audience as this type of song is not usually sung by me.  But I wanted to be versatile.  Right now the team is really working hard and trying our best.  I would like to thank my team for their sacrifices that they are doing to make my performance a memorable one.  I really appreciate.
Have you heard any of the other songs in Malta Junior final? If so, who do you consider has a good chance to do well?
I have not heard any of the other songs but I believe that the 20 finalists have a good chance to do well as we all made it to the finals.  Sometimes the least favourite song can do well.  Let's hope the best song wins this Junior final.
Do you normally watch the Junior Eurovision Song Contest and do you have a favourite entry from earlier years?
I have been watching the Junior Eurovision Song Contest since it began.  My favourite entry takes me back to Copenhagen in 2003 and it would be the Croatian song and also the winning entry that year, Ti Si Moja Prva Ljubav sung by Dino Jesulic.
Next year you will be old enough to participate in the main Eurovision Song Contest.  Will you try to participate as soon as you are eligible?
I will try for the main Eurovision Song Contest as soon as possible.  The reason would be because it gives a boost to singers in their own country and also in foreign countries.  It will be a big experience as a massive audience will be viewing the contest throughout the world.
What was your favourite song in the Eurovision 2010 in Oslo?
An obvious answer would be My Dream by the bubbly and the beautiful Maltese singer, Thea Garrett, but unfortunately failed to qualify for the final.  So, in the final I supported the Belgian entry, Me And My Guitar, by Tom Dice.  An incredible voice complemented a simpe song and Tom stole many hearts with his charm.  So, Me And My Guitar was my favourite song.
Finally, what question that I have not asked you, would you like to ask yourself, and what would your answe be?
It would be 'What are your plans for the future?'
In the next few months I will release my first Maltese album. It will be an original album full of messages about subjects that we pass through out our life.  It is going to be a realistic album. I am very much looking forward for it.
I am also participating in September in the Independenza Festival in Malta.  This is a very important contest where all the songs are sung in the Maltese language.
Thank you, Domenique. Good luck in the Malta Junior final on Saturday 4 September.