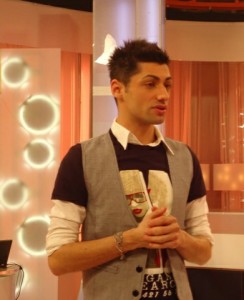 Glen Vella speaks to EuroVisionary about his experience of winning the Malta Eurosong and his plans leading up to the Eurovision Song Contest.  He also tells about his musical influences and his experience as a vocal coach at the 2010 Junior Eurovision …and more.
Congratulations, Glen, on winning the 2011 Malta Eurosong. Could you try and describe your feelings when you realised you had won the show and would represent your country at the Eurovision Song Contest?
I started freaking out after I received the final points. I cried with joy. It was a dream come true.
How are your preparations going for Germany? Can you tell us something about your promotional tour?
Croatia was my first destination, followed by Greece and Portugal. Hopefully the promotional tour will continue in the coming days. Destinations are still to be announced, but possibly Azerbaijan, Turkey and San Marino.
Can you tell us something about the video you have prepared for One Life?
A very popular Maltese TV production company, Where's Everybody, was commissioned to carry out the job. The video is being built around the song's theme 'Live and let live'. On average about 50 persons were selected to take part. Public Broadcasting Services are the Executive producers.
Have you heard any of the other Eurovison entries this year? If so, do you have any favourites so far?
Yes I did. I think that there's a good level of entries with different styles. It's difficult to find a favourite out of such a strong lot.
Who are your musical influences?
Stevie Wonder and Michael Jackson.
You were a vocal coach for the Malta team at the 2010 Eurovision Song Contest. What were your thoughts about the contest and your visit to Belarus?
It was a great experience for all the team and it was great to see the organisation of the festival from so close. I had the pleasure to visit the beautiful Belarus for the first time. What struck me most was the hospitality of the people. They are friendly, helpful and extremely concerned with your well-being.
Some people think you have the look of Dima Bilan, who won the Eurovision Song Contest in 2008. Are you prepared for people thinking you might be him?
Hahaha……really?!! Haven't heard this before……honestly, I don't think so but anyway……I wish I will get the same result!
Do you plan to record One Life in the Maltese language?
Actually, we haven't as yet thought about it. Maybe because of the style of the song which makes it very International and therefore English is understood by many. One may never say, however, and we keep our options open, not only to the song being recorded in Maltese but also in other languages.
Finally, what question that I have not asked you would you like to ask yourself and what would your answer be?
The question would be: What's the perfect way to spend your next birthday? Hopefully, I will be with the finalists on the Eurovision stage!! Oh yes, I will turn 28 on the final night!! That would definitely be the greatest birthday present ever!
Thank you, Glen, and good luck at the Eurovision Song Contest