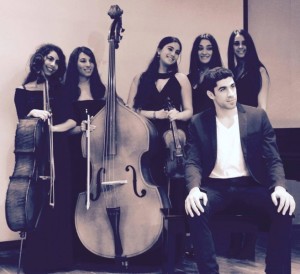 Just one day before the Cypriot final Panagiotis Koufogiannis with his characteristic voice gave us a very interesting interview. He participates in tomorrow's final with his powerful ballad Without your love. Is this the song that will represent Cyprus at the 2015 Eurovision Song Contest?
Panagiotis despite his tiredness because of the rehearsals and all the live appearances in radio and tv programmes was very polite, and with a smile answered all of our questions:
People know you from your participation last year in the Voice of Greece and from your video-covers onyour channel onYou Tube. Why have you decided to take part in this year Cypriot selection for Eurovision? 
Panagiotis: When I saw the announcement in July I immediately thought it was a good next step idea for me. I feel ready for something like this and I also knew it would make me a better artist which is something that's always my goal. I was thinking of sending one of my original songs in the beginning, but then a few composers sent me some songs and when I heard Nasos Lamprianides (Cyprus 2010 composer) Without Your Love it caught my attention right away.
So tell us about your entry Without Your Love
Panagiotis: It's a love song. Maybe most of the people at the first listen will think it's a dark pessimistic song, but if you hear it carefully you'll see that it has a really positive message, especially when you are in an emotional fragile condition. The song is composed by Nassos Lamprianides, a eurovision veteran. It's written by Nassos Lamprianides, Marieffie Orfanidou and Nikoleta Filippou. Made in Cyprus 🙂
Love songs are tricky as there are so many of them. Are you pulling on any personal experience in order to deliver this as strong as possible? 
Panagiotis: I am always putting personal experiences and emotions when I perform. This is what makes an artist and this is what makes good love songs to stand out.
 What does it mean to you to represent your homeland in a contest like this?
Panagiotis: Representing your country in a national event like the Eurovision Song Contest is a true honor. Besides that you have the opportunity to present yourself, your voice, your skills in front of 300 million tv viewers. It's a massive challenge to stand on a stage where Celine Dion, Julio Iglesias, Bonnie Tyler performed. I can't imagine how proud any artist could be when representing their country in the contest.
Tell us something we don't know about you? 
Panagiotis: There's a reason you don't know the things you don't know about me, haha. But if I had to… I name my guitars. They're called AmyLee and Daenerys.
Cyprus usually doesn't quallify for the final in Eurovision, has never won and it is 10 years since the country reached the top10 in the contest. Do you think that your song can make the difference this year for your country? 
Panagiotis: I think that the reason Cyprus does not constantly do well in the contest is not because of our music/songs. We are a small country with a small diaspora. I think that our song can touch the people with its simplicity, sincerity, honesty and directness. If I win the national final next Sunday, iI will work hard with all of my team to bring Cyprus back to the final.
 Which question that I didn't ask you, would you like to ask yourself and what will the answer be?
Panagiotis: I'd ask myself what do I want to be in 5 years from now. The answer would be happier.
There are a lot of polls for tomorrow's final of the Cypriot selection in the Eurovision Song Contest. In all of them Panagiotis is in the lead. Sofia Patsalides, the Cypriot Junior Eurovision 2014 represantative also supports him.
You can watch Without your love, Panagioti's candidate song in the Cypriot Eurovision final below and EuroVisionary would like to wish him the best of luck on Sunday: