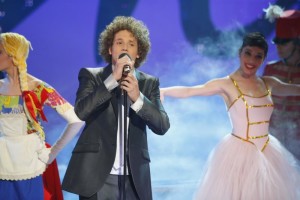 Daniel Diges will sing Algo Pequenito for Spain at the 2010 Eurovision Song Contest.  EuroVisionary interviewed Daniel about his preparations for Oslo and about his career.
Hello, congratulations, Daniel, on being selected to represent Spain at the Eurovision Song Contest. How are your preparations going for Oslo?
They are really fine. At this moment, we are with the rehearsals of the choreography that we'll do in Oslo. These are very intense days but I'm happy.
Do you have a busy promotional plan for your song? Do you plan to visit some other countries?
I have a tight schedule with a lot of interviews and tv companies in Spain! We've received some invitations from different countries to do an international promotion. I have just recorded a promotion for the Ukrainian television. At this moment, we're seeing if we can fit dates. On the other hand, I'm preparing my first album and, sincerely, I don't have free-time enough. 
Your song is called Algo Pequenito (Something Tiny) – what is the tiniest thing you hold value to?
As the song says… the most important things are the gestures: the caresses, the hugs, a small detail…
Have you heard any of the songs from this year's Eurovision? If so, what is your opinion and do you have any favourites?
I think there is a high level this year. A hard competition! Sincerely, I couldn't talk about favourites because I like them enough. Also, I think it's very important to see them live and their performances of the songs before giving an opinion.
Do you have any memories of the Eurovision Song Contest? Do you have a personal favourite songs from earlier years?
I watch the Eurovision Song Contest since I was a child and It's a pride for me to represent to Spain this year. Between Spanish reprententatives I'd remark to Sergio Dalma -I love his music, Anabel Conde -we were together in the Spanish final and she is amazing and, of course, Nina, with whom I've shared stage in the Mamma Mia musical.
What was your opinion of the Spanish Eurovision selection this year and do you keep in touch with any of the performers?
Well, this process gave me the opportunity to represent Spain in Eurovision 2010. Also, I shared stage with big singers in the Spanish final. Although I don't have so much time, I have contact with them by internet.
Could you tell us something about your career so far in music, theatre or acting?
I'm singer and actor and I've worked in television and theatre for more than fifteen years. The last five years, I have dedicated to musicals and I've played the leading role in "Hoy no me puedo levantar", "En tu fiesta me colé", "We will rock you", "High School Musical" and "Mamma Mia". Thanks to these jobs I've received the National Theatre Award as "Best Actor Musicals".
Have you released an album yet and do you have plans to release a new album?
I've just signed with Warner Records and, at this moment, I'm working on the album. I hope it will be in shops before the Eurovision Song Contest.
What question that I have not asked you would you like to ask yourself, and what would your answer be?
In what position will I be in Eurovision Song Contest?
The audience and jury will decide it!
Thank you, Daniel. We wish you luck in Oslo.